Nothing in the quiet inner city of Tunis gives the impression that a real coup took place here on Sunday. The streets are calm, the shops almost empty, here and there people sit on terraces. But everywhere, the seizure of power by President Kais Saied, who fired the prime minister and suspended parliament on the grounds that he wanted to break the long-standing political deadlock, is the talk of the town.
However, not everyone likes to be addressed about the sensitive question of whether Tunisia should remain a parliamentary democracy or whether it should move in a more authoritarian direction. A question that divides the country to the core. "We need a president like in Egypt," says a man in his fifties, who under no circumstances wants his name in the newspaper. "Countries in this region are not yet ready for democracy. Maybe Kais Saied is a dictator, but he has no choice."
Elsewhere in the city people think differently. Crowds of people protest near the parliament, which is surrounded by the army. Spread out, in the shade as much as possible to avoid confrontations with the ubiquitous police. A man in a blue T-shirt sits under a tree, sweat pouring down his forehead. He also only wants to be anonymous in the newspaper. What happened on Sunday? "A coup d'état! But democracy is our destiny. Dictatorships cannot last in this day and age, we proved that in 2010," he says, referring to the Tunisian upheaval that ushered in the so-called Arab Spring in December 2010. "Kais Saied is wrong if he thinks he can turn Tunisia into a dictatorship. That will work for a few months at most."
'We can't blame him'
Project manager Hend Boubaker (37) is not convinced. "Maybe there will be a civil war. The president is turning people against each other." She doubts whether Kais Saied came up with all this herself. "It is France's fault. He is in the power of President Macron. Macron wants Tunisia to remain a colony in order to take advantage of our riches. That never changes."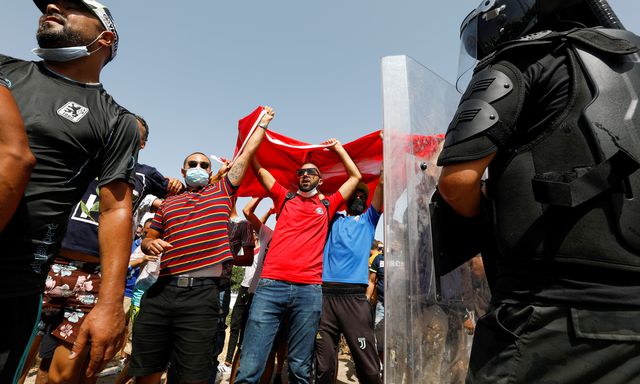 Also read: Tunisian democracy dangles by the thread after 'coup'

Noura Houda, a 26-year-old English teacher, is leaning against a fence. "I came because Parliament has to go back to work. I am for parliament. Of course there are problems, but you have to solve them through democracy. There will be new elections in 2024. Then we can vote for other parties."
Meanwhile, Ennahda, the moderate Islamist party that has been the largest in parliament for years and usually co-rules, has called on its supporters to take to the streets. "Peaceful," emphasizes Ahmed Gaaloul, adviser to party leader Rached Ghannouchi and member of the Shura party council. "What the president has done is illegal. We cannot agree with him. That is why people should make use of the freedom of expression."
He sees the fact that the army, the police and the union so far seem to be taking sides with the president as "worrying, but logical". "Prime Minister Mechichi has not yet spoken. We don't know what's wrong with him. He's at home, but we can't get in touch with him."
If Mechichi had been able to say something, the day could have looked different, Ghannouchi's advisor believes. "I never believe that the police would have raided Al Jazeera's office." The police stormed the office of the Arab TV channel, also beloved in Tunisia, on Monday and had it closed.
Maybe there will be civil war, the president will turn people against each other

Inhabitant of Tunis
Now Gaaloul puts her hopes above all in the international community. What we need now is for the European Union to make a strong statement in favor of democracy. It is precisely they who have an interest in a stable and democratic Tunisia."
He is not surprised by the coup. "We already knew that Kais Saied is against political parties. From the outset, he has done everything to undermine democracy and seize powers." There have been signs on the wall for the past few days. "Some Facebook pages, which are funded by the United Arab Emirates, have been calling for days to raid Ennahda's offices."
Another woman is more understanding of Saied's seizure of power, "It is a coup against corruption, poverty and favoritism." But she also prefers not to mention her name.
Democracy in a bind page 5
A version of this article also appeared in NRC in the morning of July 27, 2021