Triathlete Rachel Klamer fourth in Olympic race
Dutch triathlete Rachel Klamer has achieved her best result at her third Olympic Games. The 30-year-old Beuningse advanced in the Olympic race in Tokyo in the final 10 kilometer run and finished in a very creditable fourth place.
Flora Duffy from Bermuda captured the Olympic title. The two-time world champion distanced herself from her competitors in the running and went solo for the gold. Britain's Georgia Taylor-Brown took silver and American Katie Zaferes took bronze.
Klamer's strong performance was surprising, because the former European champion had a difficult year with the death of her mother, a persistent injury and heart problems with her husband.
Compatriot Maya Kingma, pre-designated as a candidate for a medal, finished eleventh.
Welcome to a new blog – Tuesday 27 July
The editors of NRC keeps track of the results and most important developments (including those outside the sports fields) around the Olympic Games in Tokyo every day. Yesterday's date, July 26, was marked in Matthieu van der Poel's agenda, but the mountain biker had an unfortunate crash in the race and had to give up. More bad luck on two wheels: BMX rider Niek Kimmann was hit by an official during a training session and suffered a sore knee as a result of the collision – it looks like he can just cycle his race next Thursday. Then TeamGB was more successful: British mountain biker Tom Pidcock won the Olympic gold, as did diving duo Tom Daley and Matty Lee.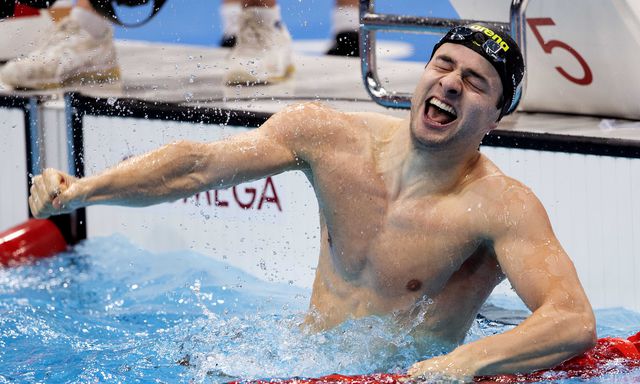 Read it here whole blog from July 26 back

And today? Kira Toussaint swims the final in the 100m back. Two mountain bikers compete in the women's cross-country race: Anne Tauber and Anne Terpstra. There is also the Grand Prix final in the sport dressage Nations Cup. The men play a quarter-final in 3×3 basketball; they won 22-20 against Poland in extra time on Monday. The basketball players will meet Latvia on Tuesday.
Below the entire tournament program of the Netherlands: