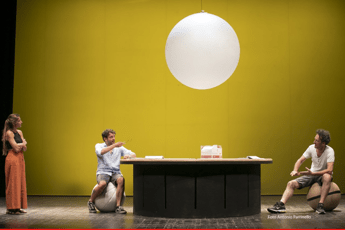 'Fat Pig', or 'fat pig' or, if you prefer, 'The packet': this is the title chosen for the Sicilian version of the comedy written by d
American dramatist Neil LaBute and now on stage in Catania until Sunday with the direction of Marcello Cotugno at the Platamone courtyard, produced by Stable Theater of Catania, with Paolo Mazzarelli, Federica Carruba Toscano, Chiara Gambino, Alessandro Lui, for the sets and costumes by Luigi Ferrigno and Sara Palmieri.
At the center of the story, the nascent relationship between a Milanese who moved to Sicily for work reasons and a woman 'generously in the flesh' as ​​one could define a 'pacchiona' in the self-righteous way that she first refuses and rejects, proposing herself for what she is, body but above all soul and brain, heart and action. An almost defiant attitude that conquers the protagonist, despite the 'evil rumors' of colleagues who do not know or do not want to see and go beyond appearances. Challenge that the public makes their own and which returns to the sound of applause to the actors on stage.
"The show follows the style of chamber theater, focusing on relational acting and the credibility of the characters – explains the director Marcello Cotugno – An essential and symbolic scene conveys references to the context and themes of the narrative, while the scenic elements adapt easily and transform themselves with the evolution of the story, exploiting the space in order to involve the viewer in the action: solution suitable for a piece that contains a strong empathic charge and conveys a social matrix strongly allusive to the contemporary ".
(by Enzo Bonaiuto)