Toyota has plenty of hybrids. Plug-in hybrids, on the other hand, do not. For a long time, Toyota only had the Prius Plug-in Hybrid. Now a plug-in version of one of the best-selling Toyota models – the RAV4 – appears. This Toyota RAV4 Plug-in Hybrid is broadly identical to the Suzuki Across Plug-in Hybrid, but there are a number of differences.
Toyota RAV4 Hybrid redundant?
How popular is the Toyota RAV4 then? The numbers speak volumes. Since the introduction of the fifth-generation RAV4 in early 2019, Toyota has sold more than 130,000 units in Europe. The vast majority of this – 115,000 units – is accounted for by the RAV4 Hybrid. In the Netherlands, even more than 90 percent is a hybrid. The new RAV4 Plug-in Hybrid completes the line-up. Features of the model: three engines, a system power of 306 hp, a 0-100 time of six seconds and a braked towing capacity of 1,500 kilograms. That sounds like this PHEV makes the RAV4 Hybrid redundant. Yet that is not the case.
Hybrid of Plug-in Hybrid
Those who want to drive carefree, without the hassle of charging, are better off with the RAV4 Hybrid. In practice, it also turns out to be very economical. A consumption of 1 in 20 is quite feasible. With this RAV4 Plug-in Hybrid, the average consumption strongly depends on your charging behaviour. If you don't charge things, consumption will skyrocket. Charging is therefore really a must, because that is the only way you get added value from the RAV4 Plug-in Hybrid.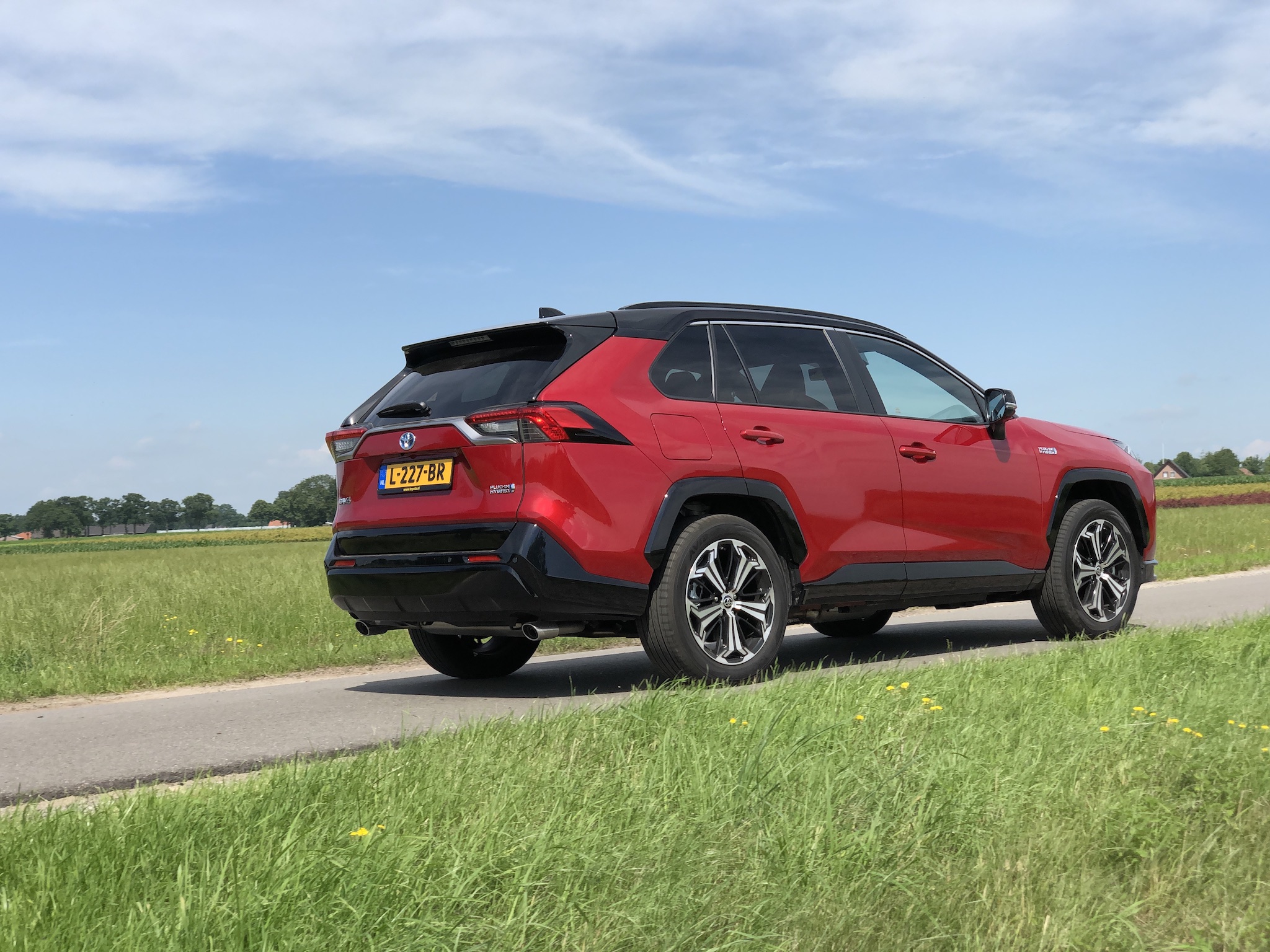 80 kilometers electric
The RAV4 with plug has a lithium-ion battery – placed on the rear axle – with a fairly hefty capacity of 18.1 kWh for nothing. As a result, this Toyota can travel 75 kilometers on a full battery charge on paper, although in practice that figure is sometimes even higher towards more than 80 kilometers. When used in the city, you can drive longer distances electrically because you continuously recover energy during braking, even 100 kilometers of EV range is possible. At a speed of approximately 100 km/h, more than 60 kilometers of electric driving is feasible.
Charging the battery
Fully charging the battery will take you about 7 hours and 30 minutes with a regular power outlet (2.3 kW). With a charging point of 6.6 kW, that is only 2 hours and 30 minutes.
Braked towing weight Toyota RAV4 Plug-in Hybrid
The Toyota RAV4 Plug-in Hybrid weighs just under 2,000 kilograms and may have 1,500 kilograms on the tow bar when braked. This also makes the model interesting for caravan drivers. Although: also consider a Toyota RAV4 2.5 Hybrid with AWD. It may take 1,650 kilograms on the hook with brakes, weighs a lot less with 1,730 kilograms and is available in the base from 46,595 euros. The fully loaded RAV4 2.5 Hybrid Executive will cost you 54,495 euros, still cheaper than the basic version of this RAV4 Plug-in Hybrid that starts at 55,895 euros.
On to 100 km/h!
The performance of the Toyota RAV4 Plug-in Hybrid is excellent. From 0 to 100 km/h takes 6 seconds and the fun is over at 180 km/h. To return to that RAV4 Hybrid with AWD: it also reaches a top of 180 km/h and sprints to 100 km/h in 8.1 seconds. Moreover, with 222 hp you have nothing to complain about, although you do notice that the RAV4 Plug-in Hybrid has considerably more pulling power. The RAV4 with plug is therefore the smoother car, provided you provide the powertrain with power.
"Charge when you can and not when you have to."
A consumption of 1 to nothing
A big difference compared to the RAV4 Hybrid is that with this RAV4 Plug-in Hybrid you can theoretically achieve a fuel consumption of 1 to nothing. Let's explain this: suppose you live 30 kilometers from your work. That is 60 kilometers per day. You can drive fully electrically with this RAV4 Plug-in Hybrid. If you can charge both at home and at work, you will never have to use the 55-litre petrol tank. And then such a plug-in hybrid really makes sense. Just like a battery electric car, you should charge a PHEV when you can, not when you have to. By the way, you can't drive on electric power in eternity. In the long run, the car gives a message that the petrol is getting too old and so you will have to use the petrol. In de videoreview let's explain this in a little more detail.
The powertrain of the RAV4 with plug
The powertrain consists of a 2.5-liter four-cylinder petrol engine with 185 hp and 227 Nm, a front electric motor with 182 hp and 270 Nm and an electric motor on the rear axle with 54 hp and 121 Nm. The car also has four-wheel drive, even though the car does not have a cardan shaft. The 'link' with the rear axle is electric.
Extras on the Toyota
Towards de Suzuki Across Plug-in Hybrid this Toyota has a number of USPs. For example, the RAV4 has a functioning integrated navigation system from the second trim level. With the Suzuki, that system has been disabled and you have to navigate via Google Maps thanks to a link with Apple CarPlay or Android Auto. This is also possible with the Toyota. You can also get the RAV4 with a digital rear-view mirror.
Garantie Toyota
And what about warranty? Toyota provides a 5-year or up to 200,000 km warranty. Suzuki has a warranty period of 6 years up to a maximum of 150,000 kilometers. So an extra year at Suzuki, but a lower mileage. You just have to ask yourself whether you are going to achieve that distance of 150,000 kilometers in those six years. As a private individual probably not, as a business driver perhaps. So take a moment to consider.
Prices Toyota RAV4 Plug-in Hybrid
Prices of the RAV4 Plug-in Hybrid start at 55,895 euros for the Business version. The absolute top version is the Bi-Tone Plus. It costs 66,995 euros. The Toyota RAV4 AWD 2.5 Plug-in Hybrid Business Plus Automatic in the Emotional Red color that we drove will cost you 63,595 euros, including towbar with detachable ball including 13-pin cable set (1,580 euros).
"Of course there are also some downsides."
Equipment
The Toyota RAV4 Plug-in Hybrid has a rich standard equipment. For example, the plug-in hybrid SUV is equipped as standard with 18-inch light-alloy wheels, heated front and rear seats, an electrically operated and hands-free tailgate, Bluetooth, digital radio (DAB+) with six speakers, a Toyota Touch 2 multimedia system with 8-inch touchscreen and support Apple CarPlay and Android Auto. Optionally available is the Go Plus navigation system with voice control and 3 years of free map updates.
Safety equipment
Toyota Safety Sense 2 has the Toyota RAV4 Plug-in Hybrid as well. This package of active safety systems consists of Intelligent Adaptive Cruise Control, Automatic High Beam, Road Sign Assist, Lane Departure Alert, Lane Trace Assist, Fatigue Recognition and Pre-Collision System with detection of vehicles, cyclists (day) and pedestrians (day and night) . The Business Plus also has Blind Spot Monitor, Rear Cross Traffic Alert with braking function and a Panoramic view monitor. Of course there are also some downsides. For example, the navigation system does not have the most modern graphics (can be solved by using Google Maps) and the parking camera gives a somewhat cloudy image. It certainly works, but it doesn't look really premium. Here Toyota leaves some points.
Conclusion review Toyota

RAV4

AWD 2.5 Plug-in Hybrid
But overall this Toyota RAV4 Plug-in Hybrid scores above average. That's because the proven RAV4 forms the basis. The plug-in hybrid powertrain is a great addition to the lineup and an excellent choice for those who understand the powertrain and will use it the way you are supposed to use it. A PHEV should fit into your travel pattern. If that is not the case, it is better to opt for the Toyota RAV4 Hybrid. It is also economical and much cheaper.
I hope you are in health and well.
I offer you important instructions regarding this article
The article has been translated based on the content of the

Source below these instructions
If there is any problem related to the content, copyright, correctness of the information contained in this article, or If there are errors in the language, please mail us Info@ruetir.com. We will try to process as quickly as possible to protect the rights of the author. Thank you very much!