In a castle hall of 1,200 square meters, about two hundred people are absorbed in the music. The doors are open. Without talking, without alcohol and without a telephone in hand, they allow themselves to be carried away to meditative, then ecstatic music. It's July 13th, the clubs have just closed again. It is also not an event, then there should have been fixed seats or standing and proof of vaccination or testing had to be shown. That didn't happen. They also shouldn't have slept.
However, the multi-day Ecstatic Dance Festival Holland is not an event, but a religious gathering. The initiators have organized this festival before, but now for the first time from a newly established church denomination, Salmagundi. In addition to dance, the program also includes concerts, meditation, yoga, massage and a cocoa ceremony.
But the question in advance whether people had complaints, and the availability of six hundred self-tests, could not keep the corona virus out, it turned out when one of the visitors tested positive on the last evening. At least 34 people were found to be infected after the festival of this new 'church'.
Church during the pandemic
NRC spoke with the founders of dozens of denominations that were founded during the corona pandemic. An important reason for this was that a denomination has the freedom to meet in groups. During the first lockdown, from mid-March 2020, no events were allowed to be organized and a maximum of three people could be received at home. During the second lockdown, from December 15, groups were not allowed to come together, not even at home and outside. Religious gatherings, however, were excluded; there were no restrictions on group size, there was no obligation to wear a mask.
For example, the churches are called The Movement Of Life and The Temple of the Primordial Woman
The new denominations have names such as The Movement Of Life, The Temple of the Primeval Woman and The Universal Spirit. They usually have no affiliation with a traditional religion, but are in the corner of modern spirituality.
All kinds of activities take place under the banner of these denominations, for example meditative concerts, dance evenings, lectures and discussion groups. Some groups now organize paid activities under the banner of their church, which were previously organized by a company, for example yoga courses or shamanic ceremonies. A band from Nijmegen transformed itself into a church so that they could continue to play together legally. As a denomination, they could rent a hall to perform for friends, while a note hung on the door that a religious meeting was taking place.
Light in Sight
Britta Spreeuwenberg has been organizing lectures and meditation sessions from her spiritual center for years. "During the first lockdown, I noticed a great need for connection. Then I started organizing evenings where people could vent. We laughed and cried that first night and we continued to meet weekly." When this group could no longer come together in December, she registered the Community Licht in Zicht as a denomination at the Chamber of Commerce. Then it was allowed again. "We gather in a circle, we meditate and we light our 'community candle' – whoever holds it can tell his or her story."
The multi-day workshop on Zen meditation and Japanese ink painting is now also being organized under the banner of a denomination, the Dōji Zen Group, founded on January 1, 2021. The workshop is given in a building in Katwijk. One of the founders, Sonja Nijon, says: "During the second lockdown, we could no longer go to the church that had provided us with shelter, and we were not even allowed to meet at home. The corona rules forced us to be creative. We don't feel like a church, but as a denomination we can come together as a group and we don't have mandatory meetings, like with an association."
Another newly established church is the Church Of Own Body And Soul. One of the board members is Jan Engel, brother of Viruswaarheid leader Willem Engel. The church provides its members with a declaration of faith, as proof that they do not have to wear masks because of their faith. In the future, the church wants to buy plots of land with donations to establish self-sufficient communities on it to offer members the choice to withdraw from 'the system'. Without compulsory vaccinations and tests.
During the first lockdown I noticed a great need for connection

Britta Spreeuwenberg Community Light in Sight
Minister Ferd Grapperhaus (Justice and Security, CDA) made agreements in October with the CIO (the Interdenominational Contact in Government Affairs) – in which most Dutch churches come together – to discuss the corona measures. The largest churches agreed to meet with a maximum of thirty people. But these agreements were not binding.
A single new church was therefore not limited by the maximum group size. A church met several times with about seventy people, without masks and shaking hands and hugging each other.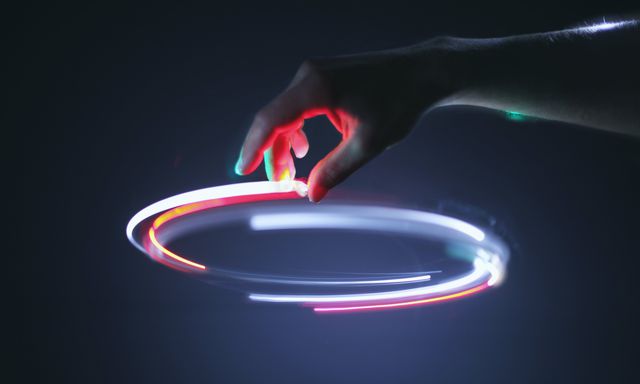 Also read this article: Where spirituality and conspiracy meet

The cabinet sent a bill to the House of Representatives in April 2021 that offers municipalities the option of closing churches for ten days in the event of a corona outbreak. People – already now – also have to keep one and a half meters away within churches. In most of these new denominations that happens, but there are also organizations that do not want to impose this.
The ministry says that it is ultimately up to the judge to determine what may count as religion or belief. Because of the separation between church and state, the government cannot establish a definition of a church. The ministry does, however, refer to case law of the European Court of Human Rights, which states that beliefs have, for example, 'achieved a certain level of persuasiveness, seriousness, coherence and importance'. In 2018, the Council of State ruled that the Church of the Flying Spaghetti Monster lacked this seriousness, when a Nijmegen adherent of 'pastafarianism' stated that because of his faith he only wanted to be photographed with a 'holy colander' on his head for a passport.
Future
The question is whether these new denominations will continue to exist for long, now that you are allowed to come together in groups again outside the church. Various initiators say that being a church has acquired so much meaning that they want to continue under that flag.
In March, extraordinary investigating officers (boas) from the municipality of Breda tried to enter a concert and dance evening organized by a religious denomination, because they had indications that corona rules were being violated. They couldn't take a look because they couldn't figure out the location. The organizer, the Church of Intuitive Music, believes that the religious gatherings are organized within the rules. Dymphi Peeters founded the church in December to gather up to 30 people. "I then make what I call medicine music, improvised music at ecstatic dance evenings, in which people go into a kind of trance and dance in silence barefoot. Last winter I felt like I was being asked at a time when people were having a hard time with my tribe to bring them together."
Also read this article about Heerde, a church village in the Veluwe that was hit hard by corona: "I'm not going to die too, I thought. God cannot make that, so to speak."

A version of this article also appeared in NRC in the morning of July 26, 2021