Amanda Knox's tweet: "Horror story? Study holiday in Italy "
Amanda Knox returns to be talked about with a post shared on Twitter. Asked by a user who asked her "Tell a horror story in five words", the former American student accused of having participated in the crime of Meredith Kercher he replied: "Unforgettable study holiday in Italy".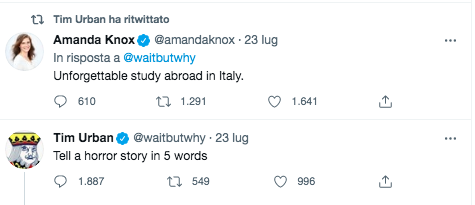 The tweet sparked the wrath of the users, with many who have Knox to "go back to being the victim" and joke about a serious matter. "Maybe after years you should stop making irony about this story … let us know that you are a miracle worker", he wrote a user. The woman replied with harsh words. "The reputational damage I still bring from my wrongful conviction is incalculable, but here's a taste of it. I make a joke about that time when I was horribly locked up in a prison cell for 4 years for a murder that I had nothing to do with, and I get these answers, "Knox wrote on the social network.
Kercher was an English student, stabbed in her Perugia apartment in 2007. Knox spent 4 years in prison in Italy before being acquitted by the Supreme Court in 2015.