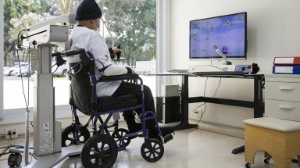 One year after being discharged from hospital by Covid-19, 60% of patients still have some type of sequelae, such as weakness, fatigue, shortness of breath and difficulty concentrating and memory, shows an unpublished study by USP's Hospital das Clínicas that may be useful. model for the implementation of post-Covid public health policies.
These cases, known as long Covid or post-Covid syndrome, have been a matter of concern around the world due to the high prevalence of complaints, the impact on the patient's quality of life, the need for multiple therapies and the cost this will represent to systems of health.
The work follows 750 patients who were hospitalized in the first half of 2020 at the HC at USP. A third of them still have major pulmonary changes.
The idea is for them to be followed for four years. The study is still being finalized to be sent for publication in a scientific journal.
In addition to diagnosing the sequelae, patients are being monitored and treated in 15 different areas —cardiovascular, pulmonary, otolaryngology, physiotherapy and mental health, among others.
According to Carlos de Carvalho, professor of pulmonology at USP and director of the division of pulmonology at InCor (Institute of the Heart), after discharge, these patients answered questionnaires, underwent teleconsultation and went to the hospital in person for a general assessment of the complaints. The information was added to a database of the hospitalization period.
"It was kind of a scavenger hunt. One went to X-ray, the other to spirometry [exame que mede a função pulmonar], one spoke to the neurologist, another to the psychiatry, one to the pulmonologist, the other to the physiatrist. They stayed here for about five hours", says Carvalho, coordinator of the study.
The proposal is that this entire set of care serves to create new treatment protocols for long Covid. The initiative drew the attention of the capital city of São Paulo, which will carry out a pilot project in 18 UBS (Basic Health Units) in Ermelino Matarazzo, east of São Paulo, using the screening model adopted in the study by the HC.
The state government, the Ministry of Health and Conasems (National Council of Municipal Health Secretaries) also expressed interest in replicating the protocol. The idea is that family health agents are trained to help with this screening work.
Patients will undergo clinical examinations at the UBS associated with an electrocardiogram, chest X-ray and muscle strength test to help make a diagnosis. "With these tools it would be possible to create a filter and know if the patient needs primary care or if there is a need for something more sophisticated [como ambulatório de especialidades ou hospitais]."
In the evaluation carried out after six months of follow-up, 58.7% of the patients reported at least one emotional or cognitive symptom, such as memory loss (42%), insomnia (33%), impaired concentration (31%), anxiety (28% ) and depression (22%).
Now, the multidisciplinary team is studying in more depth the causes of the limitations — for example, whether the weakness and fatigue are caused by a cardiocirculatory, muscular or respiratory problem. At the same time, what happened to this patient during hospitalization, which may be related to late sequelae, will be evaluated.
In parallel, a group of patients hospitalized in May, June and July this year will be compared with another group from the same period last year to assess the variants of Sars-Cov-2 that caused the infections and whether there is a difference in the evolution of the cases.
"In addition to getting younger people, the symptoms look different. We are no longer seeing loss of taste and smell as often as we did in the first half of 2020. Let's see if it has anything to do with the gamma variant [P.1], which is still predominant in São Paulo." For now, the evaluation of the delta variant is not yet in the group's plans.
InCor has already performed lung transplants on two Covid patients — a 40-year-old woman and a 43-year-old man. They had recovered from all other symptoms but not lung damage.
"The head, heart and kidneys were beautiful, but the lungs didn't work anymore. One was in Ecmo for 90 days [oxigenação por membrana extracorporal] and another, more than 60 days. this little animal [coronavírus] it's evil," says Carvalho. There are two other patients on the transplant waiting list, waiting for priority and compatible organs.
Another study being carried out in Brazil and involving more than 50 research centers and more than a thousand patients who were hospitalized by Covid showed that, six months after discharge, the overall mortality rate was 6.9%, and readmission, 16%. Among those who were intubated, a quarter died.
For Linamara Rizzo Battistella, professor of physiatry at USP and creator of the Lucy Montoro Rehabilitation Network, if health managers do not organize protocols for the different stages of Covid's long-term treatment in the proper time, these patient frailties may increase.
"If the post-Covid patient has localized pain, I need to know if it's a neuropathic phenomenon, thrombosis or myofacial pain. The treatment is completely different [para cada situação]", explains the physiatrist, who also collaborates with the HC study.
For Battistella, rehabilitation teams need to teach less complex centers, such as UBS, how to proceed, so that these services can accompany the patient closer to home.
Once the correct diagnosis is made and the necessary therapies are correct, many patients can even undergo rehabilitation at home, accompanied by remote monitoring. "But this requires expertise and recognition of what this person is capable of doing at a distance."
The Lucy Montoro Rehabilitation Network is the reference of the São Paulo government in the rehabilitation of patients who had Covid. With five units in the capital, the network currently serves 300 outpatients. Another 93 have already been admitted to Lucy for more intensive rehabilitation.
This is the case with Jasson de Carvalho Pinto, 58. He had Covid in March, spent three months at the HC and has been recovering from quadriplegia at Lucy Montoro since June 30th. "I arrived here without any movement in my legs or arms. I wanted to relearn how to eat," he says. With rehabilitation, he is now able to stand, bend his legs, hold objects and eat alone. But there is still no forecast of high.
According to Battistella, it is necessary to make quick interventions so that fatigue and muscle weakness are not additional factors of difficulty for the patient to undergo the treatment.
Of the patients assisted in the network, 37% were able to perform activities after ten months, but they remained with pain, anxiety, sleep disorders and fatigue. Another 27% had minor functional limitations, but complained of being very tired. And 6% continued to have serious limitations, like Jason Pinto.
The way to take care of these patients, according to the doctor, has been to make a real revolution within the rehabilitation center with therapies that involve different techniques, such as virtual reality and robotics. "Condensing these therapies in an organized and attractive way so that there is adherence to the treatment was a challenge, but patients are recovering, improving", says Battistella.
The issue, she said, is that many of them will still need long-term treatment. Patients admitted to the network achieve good results within four weeks. Afterwards, they need to continue treatment at the clinic or by teleservice. The others will need two months or more of rehabilitation.
.