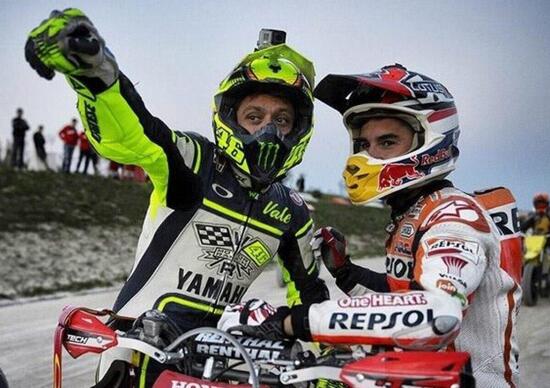 There is one thing on which Marc Marquez and Valentino Rossi are in perfect harmony: the race they do not intend to get lost among all those that will be proposed with the Tokyo Olympics, is that of 100 meters. This was reported by colleagues from Speedweek, who asked the MotoGP riders if they will follow the Olympics and, possibly, which disciplines they will certainly focus their attention on. The answer of Marc Marquez e Valentino Rossi, as already mentioned, it was common: "Especially when Bolt was there – said the Spaniard – I would never have lost a battery of 100 meters". Ditto Valentino Rossi, who added: "Even i 200 meters they are spectacular ". In general, however, the pilots have shown that they particularly appreciate all sports, specifying that the Olympics are an appointment not to be missed regardless of everyone's preferences. And for someone, such as Johann Zarco, they are also an opportunity to renew my love for the flag: "I really like 100 meters – said the Frenchman of Pramac – but I am very attached to Renaud Lavillenie who made me appreciate the pole vault and which has given France great satisfaction ".
On the other hand, the fellow countryman of the Ducatista is more disinterested, Fabio Quartararo, with the current leader of the MotoGP world ranking not hiding behind a finger: "Generally I don't follow the Olympic Games obsessively, but they told me that this year there will also be Skateboard and I think that will be the race I won't want to miss ". The most original, however, is Jack Miller, with the Ducati official just unable to detach himself from the two wheels: "Also BMX it's new – Miller recalled – We have some decent BMX riders in Australia. Can't wait to see what they can do. Also in the I swim we get by and in the past I have had the opportunity to see Michael Phelps in action, an impressive superman capable of reaching and dominating. " Miguel Oliveira, of KTM, finally, focuses everything on national pride: "We are very lucky, we have several athletes in different sports: we are always very good at Judo, with Telma Monteiro we have a medal. This year I am also very excited to see how things go in Surf with Federico 'Kikas' Morais ".
var js, fjs = d.getElementsByTagName(s)[0]; if (d.getElementById(id)) return; js = d.createElement(s); js.id = id; js.class = "_iub_cs_activate"; js.suppressedsrc="https://connect.facebook.net/it_IT/sdk.js#xfbml=1&version=v3.0&appId=762114097210014&autoLogAppEvents=1"; fjs.parentNode.insertBefore(js, fjs); }(document, 'script', 'facebook-jssdk')); .