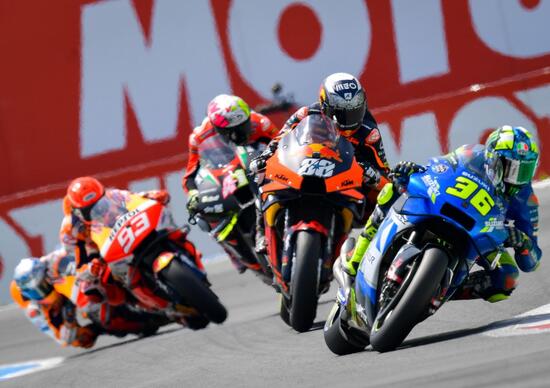 Half of the season has passed and, waiting to get back on track after the "holidays", we take stock house by house on the technical innovations they have unveiled. Each team employs time, resources and ingenuity in bringing to the track each year new features that could make a difference on the finish line. Obviously, the hoped-for benefits do not always translate into cents stolen from the stopwatch, but on the other hand, it is by attempts that we improve.
YAMAHA
2020 was a difficult year for Yamaha and to restart the house of the three tuning forks they preferred to build a new frame, however, more similar to that of 2019 than to that of last year. On the bikes of Fabio Quartararo and his teammate in the Monster Energy Yamaha MotoGP, Maverick Viñales, and of Valentino Rossi in the Petronas Yamaha SRT team, obviously not only the theater has changed. The holeshot device at the front that we saw for the first time at the Oakley Italian Grand Prix. They were not the only ones and even the Aprilia, Ducati, Honda and KTM color bearers added this detail.
Yamaha has a new front fender to enhance aerodynamics and tire cooling preventing their blood pressure from becoming too high.
DUCATI
Ducati has always exploited creativity by daring to search for cutting-edge solutions, but in 2021, the GP21 is not very different from that of 2020. Change the box in the rear which houses a mass shock absorber a bit and changed the aerodynamics on the underside of the side fairings which should help cornering.
SUZUKI
Suzuki is the only company not to adopt the holeshot device … so far at least. Because Joan Mir and the team are pressuring the House to develop.
Meanwhile, both Mir and Alex Rins are testing a new frame unveiled in pre-season testing. Committed to the 2020 bike they found themselves a step behind rivals such as Yamaha, Ducati, Aprilia and now KTM who in 2021 brought much more competitive bikes than last year.
Suzuki used instead a new slightly updated aerodynamic package, but with very minimal differences.
The grants news could arrive in 2022 with a new engine, already tested by Mir and Rins in the tests in Qatar and also by test driver Sylvain Guintoli.
KTM
The introduction of a new chassis at Mugello has changed the fortunes of KTM. Now Miguel Oliveira and his teammate Brad Binder are braking and cornering much better. Pit Beirer called it a "new generation" of the RC16 and the results have since certainly returned to what we used to see in 2020.
The current RC16 in addition to a new frame has new exhausts, a new saddle and a new swingarm. Oliveira and Binder did not unbutton themselves on the tests carried out after the GP de Catalunya but they seem to have seen a new aerodynamic fairing with small holes along two small sets of fins, positioned further back on the fairing than we had previously seen.
APRILIA
The RS-GP 2021 is a completely new bike: new frame, new engine, new exhausts, new aerodynamics … in short, all new! Many changes that have made a huge step forward both in terms of performance – as evidenced by the eighth place of Aleix Espargaro (Aprilia Racing Team Gresini) in the championship – and in terms of reliability.
Aprilia has a new front fender this year. It is unclear exactly what this is for, but one reason may be to make the airflow as smooth as possible.
HONDA
Honda used three different frames in 2021. The 2021 frame, which has a large section of carbon attached to the main beam, the 2020 frame that Marc Marquez (Repsol Honda Team) used for most of the year, and the new one used by both Pol Espargaro (Repsol Honda Team) that by Marc Marquez for the race in Assen and is the same chassis that Stefan Bradl tested at the Circuito de Jerez-Ángel Nieto in January.
Honda also used new aerodynamic package that debuted at Sachsenring. During the Jerez test and again at the Catalunya test, Honda tested a bike with a completely new air intake. Marc Marquez uses an old exhaust, different from what we find on Espargaro's bike with a larger diameter end.
var js, fjs = d.getElementsByTagName(s)[0]; if (d.getElementById(id)) return; js = d.createElement(s); js.id = id; js.class = "_iub_cs_activate"; js.suppressedsrc="https://connect.facebook.net/it_IT/sdk.js#xfbml=1&version=v3.0&appId=762114097210014&autoLogAppEvents=1"; fjs.parentNode.insertBefore(js, fjs); }(document, 'script', 'facebook-jssdk')); .