Hungarian Prime Minister Viktor Orbán on Wednesday announced a referendum on controversial education and upbringing legislation. Orbán wants the Hungarian population to speak out on five questions about the recently introduced 'anti-LGBTI law'. In doing so, he is responding to strong criticism from the European Union (EU) on a law that prohibits 'LGBTI propaganda' for children under the age of eighteen. The referendum focuses, among other things, on information about sexual diversity and gender reassignment.
Also read: Rutte on Hungary: if they don't adapt to the EU 'they have to get out'

Hungarians, for example, will soon be able to express their views on whether public schools can teach sexual orientation classes without parental consent. Orbán also raises questions about whether minors "are shown sexual content that affects their development" and whether Hungarian children are allowed to see media statements about gender reassignment.
In addition, the government asks citizens whether it should encourage "the promotion of gender reassignment" for underage children. Another question in the referendum is whether the government should allow sex reassignment treatments for minors. Orbán himself speaks of a "child protection law" and states that Hungary is being attacked by Brussels. According to the prime minister, the legislation does not allow "sexual propaganda" in kindergartens, primary schools, on television and advertisements.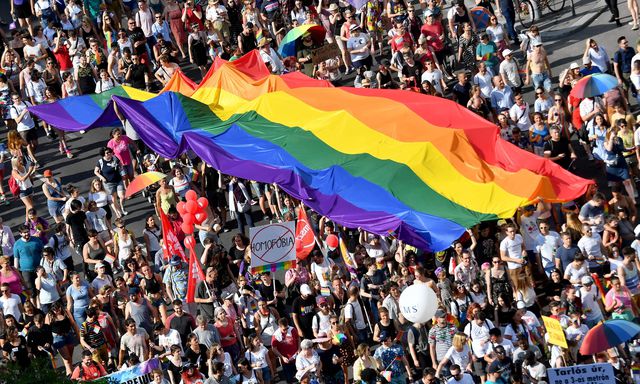 Also read: EU confronts Hungary and Poland with homophobic measures

Referenda
Orbán uses referendums more often to stir up polarization in society. In 2016, for example, he received support in his opposition to European migration quotas after a campaign in which refugees were labeled as terrorists. The announcement of the transphobic referendum comes just before the annual Pride event in Budapest takes place this weekend.
The Hungarian prime minister, following electorally successful Polish politicians, has passed more and more anti-LGBTI laws in recent years. For example, last year it was made impossible for transgenders to legally change their gender. Last month, the Hungarian government ordered that educational materials, films and advertisements targeting children must not contain "deviation from gender identity, gender reassignment, or the promotion or display of homosexuality." Parliamentary elections will be held next year.