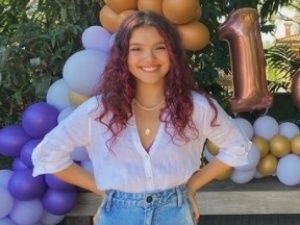 Elisa Annenberg Paglia, daughter of Globo journalists Sandra Annenberg and Ernesto Paglia, celebrated her 18th birthday yesterday, and showed the details of the celebration, which had many balloons, including one personalized with her name. The young woman also published a photo receiving the affection of her parents.
In the comments of the Instagram post, Elisa also received a statement from her mother: "You are everything to me, daughter. I love you. I wish you all the health there is in this world. Go daughter, fly! We will always be here for you".
Actress Tatá Werneck also wished the birthday girl "Congratulations" well, she wrote.
In 2020, Sandra and Ernesto celebrated 26 years of marriage and exchanged flowers to commemorate the date.