These are gloomy figures, which five UN organizations presented this week. After having remained more or less at the same level for five years, hunger and malnutrition have increased sharply in 2020, partly due to the corona pandemic. An estimated 768 million people did not have access to adequate food last year, or nearly 10 percent of the world's population. That is 118 million more than in 2019.
The figures are in the annual report prepared by the UN Food and Agriculture Organization (FAO) with four other UN agencies, including UNICEF and the World Food Program (WFP). Of those under-eating, 418 million live in Asia, 282 million in Africa and 60 million in Latin America, the report said. The category that suffers from 'moderate to severe food insecurity', as it is called in jargon, even comprises 30 percent of the world's population.
Achieving one of the UN's development goals – end hunger by 2030 – "will not be achieved if the current trend continues for nearly 660 million people," the report said. "Some 30 million of those can be linked to the impact of the pandemic."
The problems are greatest in conflict areas. More than half of people with malnutrition and 80 percent of stunted children live in countries with conflict or violence, the report said.
"We are deeply concerned about food security in Yemen, Sudan, Syria, Chad and parts of Nigeria and Burkina Faso," said Josef Schmidhuber, FAO Deputy Director of Trade and Markets Division, by telephone from FAO headquarters in Rome. "If a country has a lot of violence, it is also almost impossible to do anything about Covid-19."
Corona is particularly a problem for the less developed island states. Many of those countries are poor and dependent on tourism and food imports. "The problems then pile up, especially if such a country also has a weak currency. For example, we are very concerned about Haiti." That country is currently in danger of sliding into chaos after the assassination of President Moïse in early July.
Swine fever and coronavirus
The FAO recently published other apparently worrying figures about ever-rising food prices. In June, global averages were 33.9 percent higher than a year ago, although the 'food price index', an average of five basic food categories, fell in that month for the first time in twelve months.
The increase was partly due to the rapidly growing demand for grain in China, which purchased a lot of extra animal feed for the rapid recovery of pig farming after the country had previously culled millions of pigs after an outbreak of swine fever. In addition, the freight transport that has almost come to a standstill due to corona and the lack of containers drove up freight prices, and therefore food prices on the world market.
However, both are transient problems, according to Schmidhuber. "Food prices fell sharply in the first months of the pandemic," he says. "If you compare the current level with that of January 2020, the prices are not 34 but only 21 percent higher. And prices will flatten further. Unless we get extremely bad harvests, I expect we'll go back to normal."
He is concerned, however, with the current development of the oil price, now 72 dollars per barrel. "If energy prices continue to rise, food prices will automatically go up, because agriculture requires a lot of oil, gas and electricity."
30 million people are starving because of the pandemic
One factor indirectly contributing to the rise in food prices is that rich countries pumped money into their economies to protect their populations from blows. "Due to all the fiscal and monetary measures during the pandemic, savings there grew. Everyone is now spending that, resulting in growing economies. Fine for the countries involved, but the increasing demand is pushing prices up worldwide. This is at the expense of countries that depend on food imports."
Africa is relatively in the worst condition: 21 percent of the population does not have enough to eat, more than twice the global average. Of the 45 countries in which parts of the population need food aid, 34 are in Africa.
Informal sector
The consequences of the pandemic initially appeared to be not too bad on the African continent, because they were camouflaged by the large informal sector: if there are few formal jobs, there will be no large formal unemployment, according to Schmidhuber.
Furthermore, there is a lot of subsistence farming, and a young population, which is less sensitive to Covid-19. "But because of the new corona variants, a health crisis threatens to come on top of an economic crisis. Not just in South Africa anymore."
The UN report advocates expanding humanitarian and peacekeeping operations in conflict zones, insurance against crop loss, and distributing cash to prevent people from eating or selling their seeds.
Schmidhuber points out that the effects of the locally rising food prices caused by lockdowns and closed borders were sometimes mitigated by social safety nets last year. "A country like Brazil, for example, could have been in a much worse position. There the existence of the family bag , introduced by the Social Democratic President Lula da Silva, has a beneficial effect. It is true that many people from the middle class have descended into the underclass. They will not go hungry, but it is uncertain if they will ever return to the middle class."
Nearly 14 million Brazilian families are covered by this program, which links benefits to compulsory education for their children. The current president Jair Bolsonaro was wise enough as a populist to maintain this aid package. Schmidhuber: "The family bag prevented a huge food security disaster."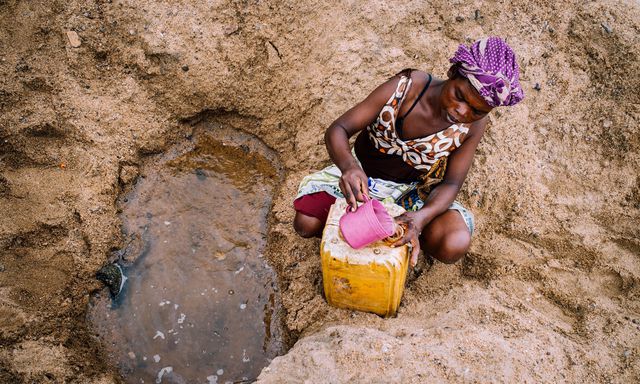 Also read this article: Hunger in Madagascar: Eating Mud to Fill Your Stomach

A version of this article also appeared in NRC Handelsblad on 16 July 2021
A version of this article also appeared in NRC in the morning of July 16, 2021