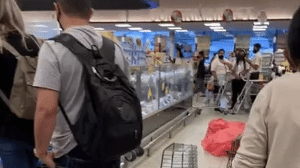 A woman got sick and died yesterday inside a Supermarket unit, in São Conrado, a neighborhood in the south of Rio de Janeiro. The victim was identified as Evangelista D. Argentina, aged 60, according to the Fire Department. There is still no information on the cause of death.
Photos circulating social networks show the woman's body covered with pink plastic in an area isolated by shopping carts. Some people who shared the image criticized the market for remaining in operation even with the victim already dying.
In a note sent to UOL, O Supermarket lamented what happened and explained that "it closed the store immediately, but at the time the store was full and we needed to release the customers who were finalizing their purchases".
The SAMU (Mobile Emergency Care Service) was called, but as the victim was already dead, the Fire Department was called to remove the body from the scene and forward it to the IML (Legal Medical Institute).
O Supermarket he also said that he is providing "all assistance to the family in carrying out the funeral".
In August 2020, a service provider died at a unit of the Carrefour hypermarket chain in Recife. The case generated revolt as, to keep the establishment open, other officials blocked visual access to the victim's body with fences and umbrellas.
In April of this year, an employee at the Carrefour do Limão hypermarket, in the northern part of São Paulo, died after the forklift he was operating overturned on a ramp. The place was closed so that the victim could be rescued, but he did not resist and died on the spot.