'Alma Braun! Alma Braun!" A girl with long red hair and short jeans enters the doctor's office after the call. "Did you suffer from your first shot? Just a little shoulder pain? Beautiful. If it hurts after the second shot, take a warm shower and massage your arm." After a handful of questions, the nurse puts the syringe in her right arm – Alma Braun (14) is left-handed. Her mother looks on approvingly.
In the Netherlands, 14-year-olds have only been able to make an appointment for a corona vaccination for a few days now. In Israel, the jabbing of teenagers has been going on for some time. Corona seemed to have almost disappeared from Israel, but the highly contagious Delta variant also strikes here. There are now about 500 new cases a day, while the daily number remained well below 100 between the end of April and the end of June. The Israeli cabinet has reintroduced some corona measures, such as the obligation to wear masks in closed spaces.
Still, Eyal Leshem, virologist and director of the Center for Travel Medicine and Tropical Diseases at Israel's largest hospital, Sheba, isn't too concerned yet. "We are seeing an increase in the number of cases, but the number of seriously ill people is still low," Leshem said by telephone. "In addition, the vaccine appears to work well against severe symptoms."
Final exam
Since a large proportion of adult Israelis have been vaccinated, a national campaign to vaccinate 12- to 15-year-olds started just over two weeks ago. Sixteen to eighteen-year-olds already had their turn in January, so that they could safely take their final exams.
The government wanted half of all young people in this age group to have received at least one shot by this Sunday, but was stuck at about 35 percent. The teen vaccination campaign is nothing compared to the adult vaccination campaign, said Dudu Shashua, North Tel Aviv head of insurance company Maccabi, one of the four major health insurance funds in Israel that organize the vaccinations. "Back then it was such a big operation that we couldn't vaccinate in our own centers."
Not all of the four available booths at the Maccabi booth in North Tel Aviv are even in use; at least fifteen of the adults were open at the same time. And then it is still relatively busy here.
The reason for the reluctance is simple: children are healthier. "For a 70-year-old, the trade-off is easy: rather the risk of side effects than dying from Covid-19," says Shashua. "In children, many parents think that the chance of getting sick is small, while not much is known about the long-term effects of the vaccination." As with adults, vaccine readiness is relatively low among ultra-Orthodox Jews and Palestinian Israelis among young people.
More concerned and accommodating
The emergence of the Delta variant pushes some parents over the line, thinks virologist Leshem. "When the disease was almost gone, they had reservations. Now the disease is 'back' and people are more concerned and therefore more accommodating." Leshem and Shashua themselves had their children vaccinated as soon as possible. "Now that they're vaccinated, they don't need to be quarantined if they get infected," says Leshem. "Being locked inside for ten days is much more dangerous for a teenager than a vaccination." His youngest of six has to wait for the time being – the vaccine has not yet been approved worldwide for children under twelve.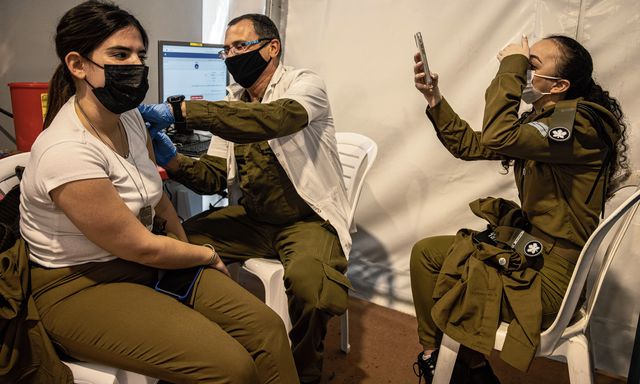 Also read this article: Israel continues to vaccinate heavily, which brings new dilemmas

Fourteen-year-old Alma Braun reacts laconically to disturbing reports about the supposed dangers of vaccination that she encounters on the internet. "There is always fake news", she says. "Even though a lot is being removed from social media, there are always new people posting weird things." Beforehand she was "a little afraid" of the shot, but she saw from her parents, who were vaccinated earlier, that there was nothing to fear. Her friends have also been vaccinated.
Insurers, ministries and municipalities have actively campaigned among teenagers and their parents. Employees at Maccabi and other insurers were on the phone full-time trying to convince customers. Prime Minister Bennett called on young people to get vaccinated quickly from a vaccination location at the end of June; his own teenage daughter also got a Pfizer shot. The Tel Aviv Municipality distributed ice creams and movie tickets to those who got the shot, and on Saturday, the last day of the campaign, mobile vaccination teams even took to the beach. The main message in the campaigns: it's safe, it's easy and it gives you freedom.
The latter argument in particular seems to catch on among young people. 'Being able to do things again' is the main reason for the teenagers at this vaccination center to get vaccinated. Braun is looking forward to flying abroad again soon, or simply going to a shopping center or restaurant with friends or family. "It's stupid to all go to a restaurant, where they ask if you've been vaccinated — and then you're the only one not allowed in."
Deal with South Korea
Until recently, cafes and restaurants had to ask their guests for a vaccination certificate. Although that measure has been abolished with the fall in the number of cases, it could come back at any time.
Saturday should have been the last day for teens to get their first shot. The Pfizer vaccines that Israel has in stock expire at the end of July and there must be three weeks between the first and second shot. Last week, Israel signed an agreement with South Korea: the country received 700,000 surplus vaccines from Israel, in the fall South Korea will supply an equal number to Israel. On Sunday, however, the Israeli government announced that Pfizer has agreed to bring forward the next delivery to August 1. As a result, the vaccination of teenagers can continue for the time being.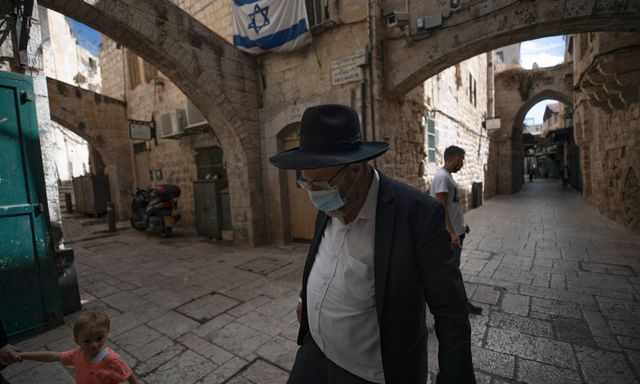 Also read this article about the second lockdown in Israel: In Israel, a firm hand helps to reduce infections

A version of this article also appeared in NRC Handelsblad on 12 July 2021
A version of this article also appeared in NRC in the morning of July 12, 2021