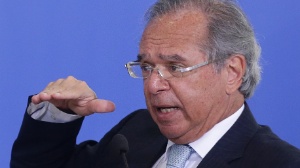 The subject of criticism because of the content of the IR (Income Tax) reform, minister Paulo Guedes (Economy) said this Friday (9) that the proposal will not generate an increase in taxation. According to him, either the measure is done well or it doesn't.
In a videoconference promoted by the FGV (Fundação Getulio Vargas) in honor of economist Carlos Langoni, who died in June, the minister said that the proposals "never turn out the way we want it", but again stated that the text is in the right direction.
"It will be done well or it won't, there won't be this business of raising taxes", he declared.
The minister defended the end of the exemption on dividends, a point in the text that has been criticized by businessmen. Under the proposal, there will be a 20% charge on the distribution of these resources — monthly earnings of up to R$ 20,000 will remain exempt.
For Guedes, the ideal would be for all types of income, including earnings from dividends, to be taxed using the personal income tax table, which today ranges from 7.5% to 27.5%. He says, however, that this cannot be done at the moment.
"The income of the richest doesn't matter if it comes from salary, rent, billionaire bonuses or if it comes from dividends. She should fall into the progressive and period. We have the technology to do everything right, but you know that everything is more difficult in the real world, there is a lobby, there is pressure," he said.
At the meeting, the minister also praised former Petrobras president Roberto Castello Branco. Guedes said he did an extraordinary job ahead of the state-owned company.
In February of this year, Bolsonaro left Castello Branco for General Joaquim Silva e Luna in charge of the oil company because of criticism of the company's pricing policy. The exchange was interpreted by the market as government interference in the state-owned company.
.