At the end of the conversation, at the offices of the functional public prosecutor's office of the Public Prosecution Service in Amsterdam, national environmental officer Rob de Rijck hands over an almost two-year-old verdict. The judge sentenced an Englishman to six months in prison, conditionally, and a fine of 40,000 euros for importing six containers of illegal plant protection products via the port of Rotterdam. A far too low penalty, says De Rijck. "A globule swallower gets one year for transporting prohibited material. This involved 100 percent banned material with great environmental damage, purchased for one tonne per container and with a sales price of possibly 5 million euros. Then I do not find this fine effective, proportionate and deterrent, as is the standard that European law imposes on sanctions. And the man will not be bothered by a suspended sentence if he does not come to the Netherlands."
De Rijck did this case himself, he had demanded twenty months unconditionally. Is he frustrated? "Let's get rid of that word frustration. That's emotion. I have appealed to the Court. For a legal discussion about the impact of that European standard."
Low penalties have made it more difficult to enforce environmental regulations for years, a report by the Court of Audit recently revealed. Insufficient environmental cases are brought to court, lawsuits take too long and the punishment is insufficiently deterrent. De Rijck: "I think they are right about that." In the case of the trader in plant protection products, the judge stated that "the undesirably long period of time" – the case was five years old – was reason to "significantly moderate" the prison sentence.
De Rijck acknowledges that the prosecution is slow. "Things are often very complicated. It's a technical world. Special knowledge is needed to determine whether a criminal offense is being committed. Unlike murder cases, there are discussions about norms. The norm is not 'thou shalt not kill' but 'thou shalt not emit more dust than so much per year'. In waste fraud cases, the court often raises the question: 'Is the waste and therefore punishable, or is it a raw material or a second-hand product?' Moreover, we are always dealing with very different things and you always have different ones knowhow required. Sometimes for trade in protected animal species, then for accidents at work."
The Court of Audit's report is yet another with strong criticism of environmental enforcement. Nine years ago, in a report on the failing safety policy of tank storage company Odfjell, the Dutch Safety Board pointed to 'negotiation supervision' as the cause of the errors: no strict administrative or criminal enforcement, but consultation about how a company can best undo mistakes. . "This makes it more difficult to inspect and enforce critically, with a distance from the company," the council said.
Two years ago, the Center for Crime Prevention and Security (CCV) reported insufficient attention from local and regional administrators to supervision and lengthy procedures. The duration of the criminal trial is so long "that it undermines the credibility of the criminal justice system".
An advisory committee chaired by Jozias van Aartsen reported this year that regional environmental services, which check whether companies comply with environmental regulations, are not independent enough. They allow themselves to be influenced by provinces, municipalities and companies.
According to the Court of Audit's report, not only does the punishment function insufficiently, governments also lack a clear insight into the scope and nature of the violations committed by companies, and the effect of enforcement. Another thing: in half of the cases, the Public Prosecution Service does not allow a court hearing, but a settlement follows, with low fines.
What is your response?
"That's right. In many of those transactions, the fine is less than 1 percent of the turnover. That's not much. But if you were to bring everything to court, a case today wouldn't be there for years to come. From that point of view, a transaction is not so strange. There is indeed less disapproval, there is no guilt and no fine. It's a deal. A suspect can always say: 'I don't feel guilty, but I want to get rid of the case'. We have to find a balance in that."
Can you increase those fines?
"The legal culture plays a role here. Suppose you bring a case to court and they fine 100,000 euros. Then we cannot impose 500,000 euros in a transaction of a comparable case. That hurts."
So the judges punish too little.
"The fact that enforcement does not function is not due to one party. It is a conglomeration of causes."
Surely you can demand higher penalties and impose higher fines? You're not dependent on judges, are you?
"Ten years ago you received lower sentences for similar offenses than now. I can't substantiate that statistically, that's my legal carpenter's eye. Our requirements have also increased. There have been judgments in the past ten years with sentences of several million euros, such as in the case against Odfjell. Nothing like this had happened in the ten years before that."
A few million is still not very much for many companies.
"For the average multinational, that is indeed not something to get very nervous about. We should have caused a little more nervousness. Not only through higher fines, but also through faster and different penalties – for example, by shutting down a company, placing it under administration, or revoking a permit. If a company gains entry into a market by complying with rules, it will never be thrown out again, even if it no longer complies with the rules. That's actually crazy."
When will we notice your intentions?
"That question can hardly be answered. It's crazy complex stuff. This system has developed over forty years. You can't get that in a few months. What I would feel is this: that Dutch law stipulates that the punishment of environmental offenses must always be effective, proportionate and deterrent. This beautiful trio has been included in all European directives since 1989, but the Dutch court almost never checks whether his sentence is all that. Public prosecutors do not do that enough either. And neither does the administrative authority.
"I propose that this European standard be included in the Dutch Economic Offenses Act. Then it becomes visible, then it comes to life. Set that standard like a beacon in the sea."
What do you mean to start with that? Why are trades not higher?
"I don't have an immediate answer to that. I am willing to admit that sometimes I see a requirement and then think: is that high enough?"
Have you never consulted?
"Yes. That's called sentencing. We've had extensive consultations in the fipronil case about what a sensible sanction would be. There the demand was one and a half years unconditional prison and that eventually became a year. I think it is correct that society through criminal law has shown that this was a bad fact. Suppose it had become a community service order. Then you are not effective, certainly not proportionate and not really a deterrent."
So, more sentencing consultations?
"In practice, we mainly do this for larger businesses. In smaller cases we work according to explicit guidelines and fixed amounts. But in general we need to ask ourselves more often whether a sanction is effective, proportionate and dissuasive."
Are the legal maximum penalties high enough?
"Two years ago, Shell was fined several million euros after an explosion in Moerdijk. We had demanded something like that. The same was true in the Odfjell case. That penalty was quite close to the legal maximum. The penalty is now higher. You can now request and impose a fine equal to 10 percent of the annual turnover for some facts. That's very high. The question is who owns the revenue. From this example? From the holding company? Suppose something happens at a random company in the Botlek. Is that operating company the suspect from which you can demand 10 percent? That is a very different amount than that of the holding company of that company. That is a discussion for the courtroom."
Leaving aside the penalties: the supervision doesn't work. How did that happen?
"I have mentioned the complexity of things. In addition, it is difficult to see whether environmental regulations are being violated. Furthermore, the investigation is fragmented. There is one police force that works with ten regional units that have great difficulty filling the occupation and the knowhow to build; there are all kinds of organizations with special investigative officers; there are two special investigative services; and there is coordination with administrative law.
"Take co-fermentation: heating organic products such as manure and generating energy. Fraud can take place on all sides and the following authorities are involved: the Dutch Food and Consumer Product Safety Authority, the Human Environment and Transport Inspectorate, the environmental service. A lot of players are involved."
And directors often do not act against companies.
"There are drivers who consciously or unconsciously frustrate enforcement, an earlier report said. Then a councilor says: maintain a little less there. Or: next year again."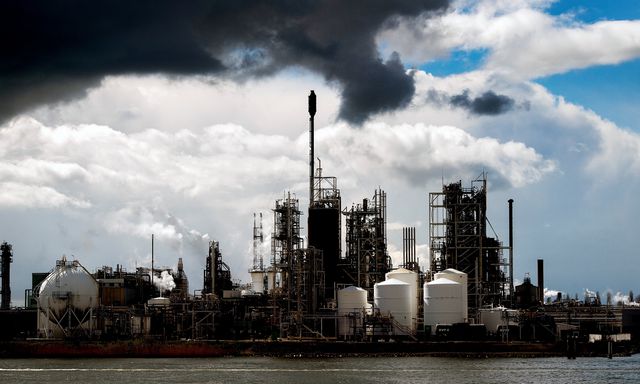 Also read: Court of Audit: the supervision of companies that work with hazardous substances is failing

Why do they do that?
"Because a company is economically important for a region. Conflict avoidance. What I've never seen is outright corruption in the sense of 'I don't enforce in exchange for a trip or a skybox'. But I do: 'I don't want any bullshit because every year it's so much fun at the barbecue'. That work.
"Enforcement is bad news. We have trouble with that in the Netherlands. If you are lenient at the beginning of a series of violations, you sometimes discover later that you should have intervened much earlier. Perhaps you should immediately say: no friend, this has to be different."
Should drivers be more fussy?
"Maybe. You prevent worse."
And you prevent companies that go wrong from saying later: you never blamed us before.
"Yes. Many companies defend themselves in court by stating: the regulator never said anything."
Are we doing better than abroad?
"At the most, we are doing less badly. I have contacts in many European countries and it is a feast of recognition. There is work to be done."
Don't people just think environmental crime is less bad than violence?
"Whoever sees a violent crime on the street immediately feels that it is serious. You can't see anything at a glance when it comes to environmental violations. You see a cloud coming out of a pipe, you see a barrel. Do you know what's in it? You have to think about it first."
You propose an amendment to the European standard. Will the minister immediately adopt your advice?
"That is a political decision. It is up to the legislator to judge that. But something has to be done. The penal system needs to be improved. So I say: put that beacon in the sea."
A version of this article also appeared in NRC in the morning of July 8, 2021