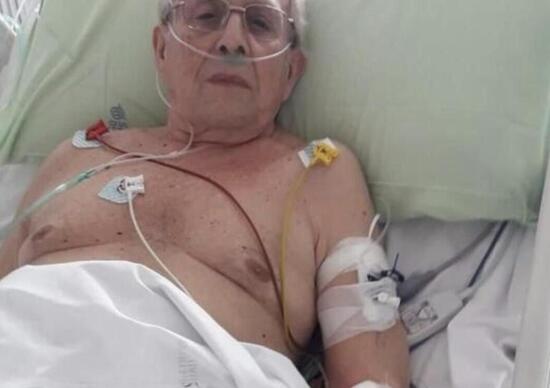 British motorcycling legend Phil Read, eight world titles and 52 GP wins, has long been in poor health. In particular, he suffers from chronic obstructive bronchopathy, a difficult lung disease with constant shortness of breath and severely limited lung capacity. Symptoms get heavier with age, and Phil Read, eighty-two in January, is almost always connected to a mobile fan.
How the site rebuilds Speedweek.com, Phil's son Mike, who works as a marketing manager for Ducati America in California, said a month ago that his famous father was on the mend. Instead, unfortunately and just yesterday, Phil Read announced to his countless fans on social media: "I'm sorry, friends. I haven't communicated much lately, because I went back to the hospital for prostate cancer treatment".
Read is indomitable: it is no coincidence that he was called "Phil of iron". In August 2018 he was still announcing that he was planning a record flight across the English Channel, he wanted to be the oldest and the first ever to double-cross the Canal, in both directions by piloting a fully electric helicopter. Nothing has been done, but the former world champion still wants relaunching business by focusing on ecological helicopters. And he founded his own company.
For Phil, who is awarded by the Queen ofMBE Order (Member of the British Empire), the effects of the pandemic are severe. "Now I live alone, so during the block I couldn't see or visit my big family like most of us – he wrote on his Facebook page – and I'm particularly impressed because I suffer from COPD, which makes movement slow it makes it hard for me to breathe. "
The former Yamaha and MV Agusta factory rider, who he won in all classes from 125 to 250, 350 and 500 (the last title in 1974 with the MV 500) and it was one of Agostini's toughest rivals, is one of the stars of Classic events not only in Great Britain. But at this point it will be very difficult to see him in the saddle again.
var js, fjs = d.getElementsByTagName(s)[0]; if (d.getElementById(id)) return; js = d.createElement(s); js.id = id; js.class = "_iub_cs_activate"; js.suppressedsrc="https://connect.facebook.net/it_IT/sdk.js#xfbml=1&version=v3.0&appId=762114097210014&autoLogAppEvents=1"; fjs.parentNode.insertBefore(js, fjs); }(document, 'script', 'facebook-jssdk')); .