Presented at Eicma 2019, the i new electric scooters 774 (L1e) and 775 (L3e) from WOW, 100% made in Italy brand. Conceived, designed and built in Italy, the WOWs have been conceived to bring a new concept of urban mobility to Europe. After the Italian debut, in fact, the brand will be presented in France, Spain, Germany, Holland and Belgium starting from the end of the year. The models WOW 774 e WOW 775 they adopt elegant and simple lines that enhance the style and compact shape. Distinctive optical groups with full LED technology, brand new battery compartments, a digital display and an elegant clearly visible logo, further enhance the look.
The 774 and 775 offer sprint, acceleration and range, thanks to the maximum power and high efficiency of the brushless asynchronous electric motor, with toothed belt drive, centrally mounted in the rear swingarm, and a system of 2 easily removable lithium-ion batteries , protected by external aluminum compartments, placed on the sides of the rear saddle for maximum ease of use. Ai 4.0 kW e 45 Km/h of the WOW 774, an L1e that can also be driven by 14-year-olds, responds to 5.0 kW e 85 Km/h of WOW 775. The batteries, easily removable thanks to their position, have a voltage of 72V and a capacity of 32Ah / 2.3 kWh for the 774 with "STANDARD" battery (42Ah / 3 "PLUS" battery available on request, 0 kWh), and 42Ah / 3.0 kWh for the 775 with "PLUS" battery. The charging time, from 0% to 100%, is about 5 hours with a cost of less than 1 Euro, for a range of up to 110 km for the 774 (with PLUS battery) and 95 km for the 775 model.. The weight of the battery pack is 15 kg for the "STANDARD" battery and 18 kg for the "PLUS" battery, compared to a curb weight, respectively, of 93 kg for the 774 and 95 kg for the 775.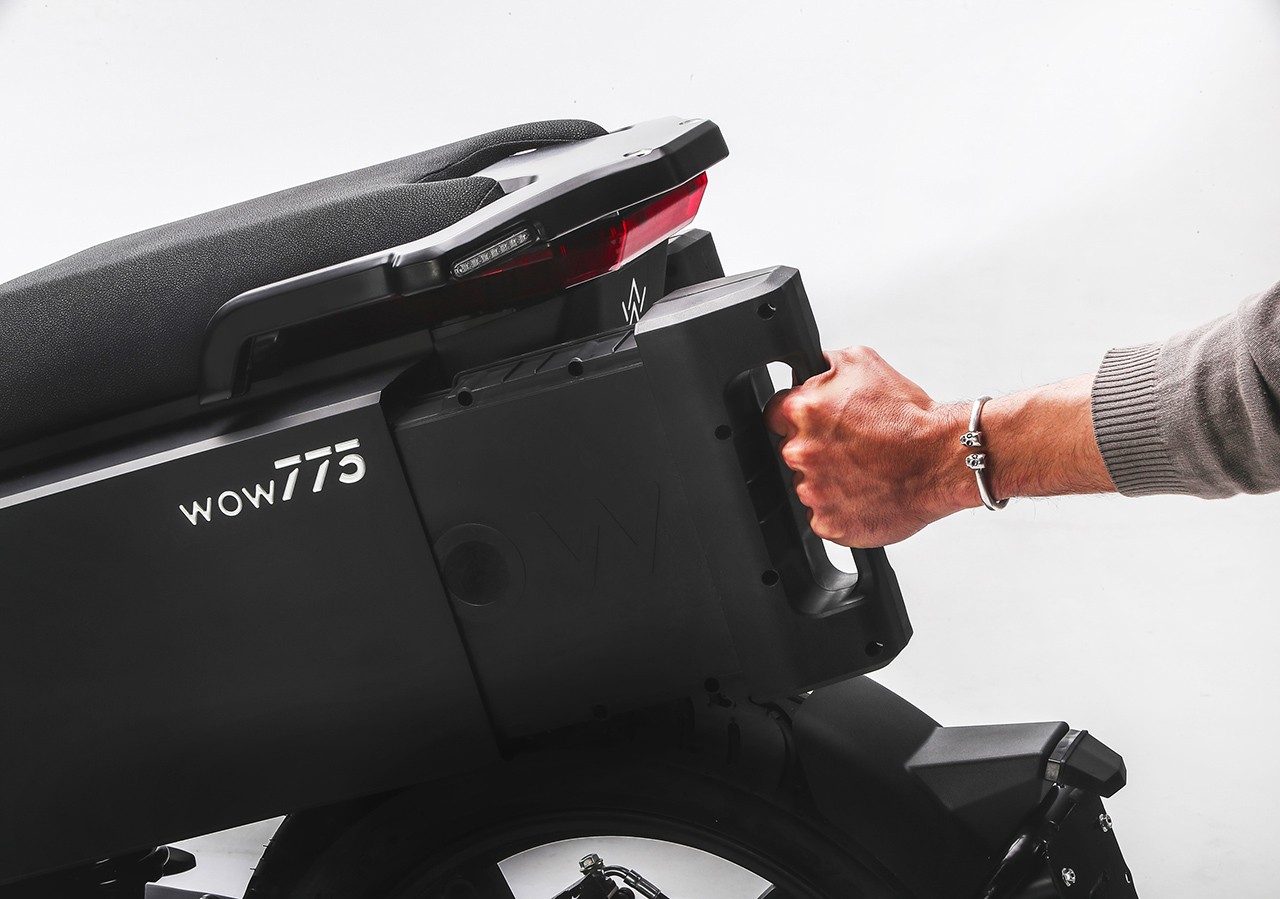 There are 3 driving modes available (in addition to reverse): ECO, which limits battery consumption to a minimum; CITY, for a smooth delivery and a peak speed of 45 Km / h (774) and 75 Km / h (775); is SPORT, which allows full use of power up to the maximum speed of 85 km / h for the 775 (45 km / h for the 774). The 16 " wheels, combined with wide tires of 100/80 at the front and 120/80 at the rear, work together with suspension with hydraulic telescopic fork with 36 mm stanchions and a single hydraulic shock absorber at the rear. There braking it is entrusted to 2 220 mm discs and CBS combined braking (only on the 775 model) and can also count on the electronic brake that can be activated by a button on the right controls, which transforms 80% of the kinetic energy into battery recharge.
With 2077 mm in length, 1167 mm in height and 725 mm in width, the WOWs have been designed to offer perfect habitability and optimum driving comfort. In addition, they are equipped with all those essential details: quick battery charger, practical base for battery charging from the ground, socket Integrated 10W USB for charging all electronic devices, split saddle, large 50-liter compartment under the saddle (which contains a jet helmet and a bag), hook for objects, alarm and remote control for remote control. The latter not only allows you to turn the scooter on and off, but also to open the compartment under the saddle and unlock the batteries for their extraction.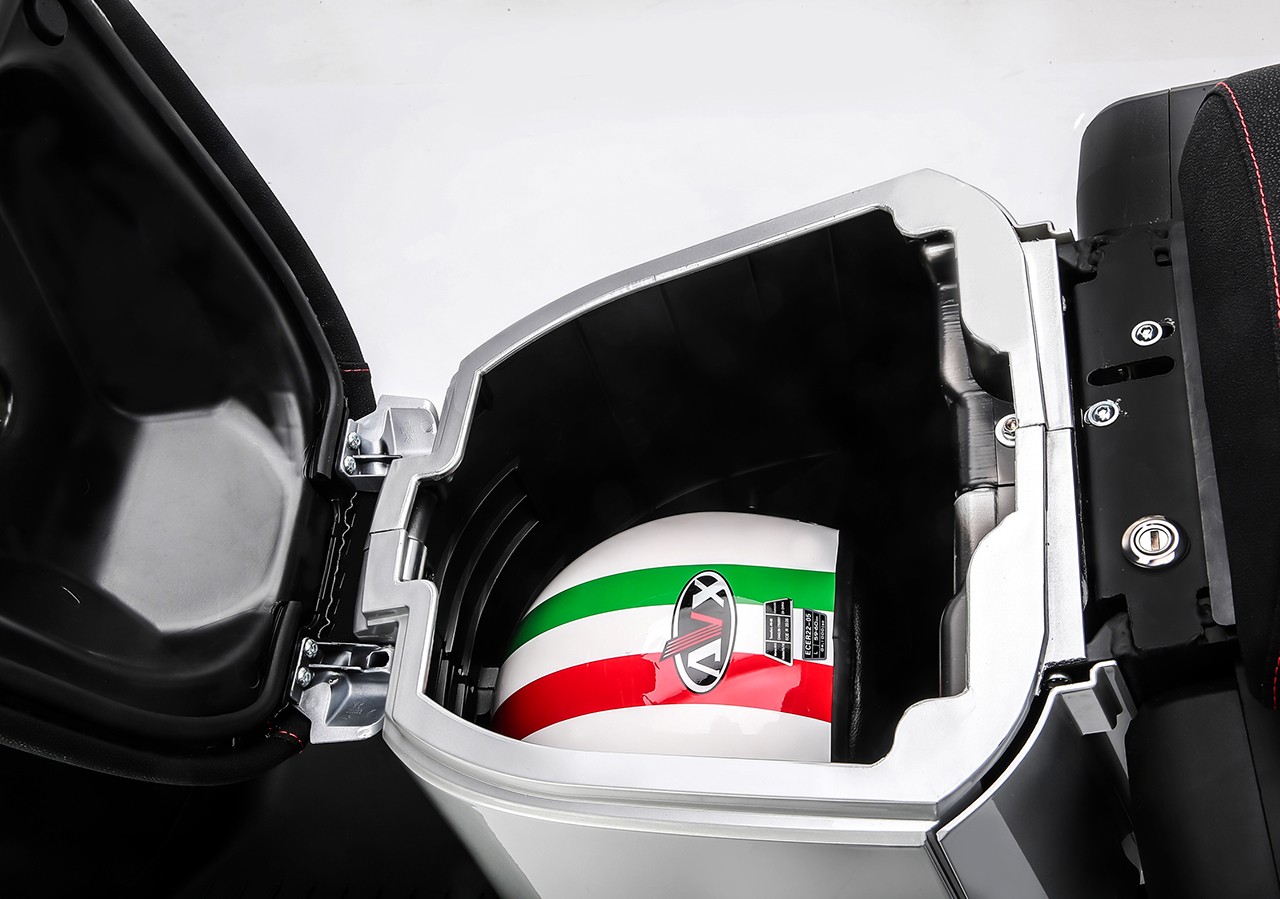 "To be able to realize our vision of WOW (helping the world to move in the direction of a green, more sustainable future), we wanted to build a product capable of bridging the gap in the minds of consumers, between gasoline and electricity", he specifies Diego Gajani – CEO of WOW -. "And that is why we have decided to design a new product characterized by a modern, elegant and original design, with great autonomy and particularly brilliant performance, which is able to compete with the best petrol scooters in terms of overall performance, comfort. of use and price ".
With extremely low running costs (100Km with less than 1 Euro) the WOW electric scooters will initially be available in over 40 national dealers in the Italy2Volt network – www.wowescooter.com – in six colors: red, electric blue, petrol green, white , gray and anthracite. Prices start at € 4,250 for the WOW 774 version with STANDARD 32Ah battery (€ 2857 with 40% incentive and scrapping) and € 4,990 for the WOW 775 one (€ 3,354 with 40% incentive and scrapping). All prices include 22% VAT ex-dealer and 24-month warranty.