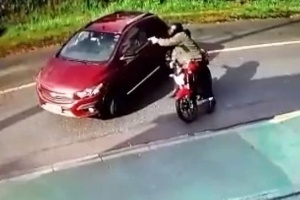 An elephant has killed at least 16 people in the past two months in central India, after being rejected by its herds for "bad behavior" — a senior forestry service official told AFP.
The animal, an adult male aged between 15 and 16, attacked residents of the Santhal Pargana tribal region in Jharkhand state after being rejected by the herd of 22 elephants.
"He was probably in heat and was rejected for his bad behavior, or sexual rivalry with other males," Forest Service regional director Satish Chandra Rai explained to AFP.
"We study its behavior, and a team of 20 employees is constantly trying to track it, because our priority is to protect the animal," he added.
The pachyderm, who is trying to reunite with the herd, managed to escape government agents and on Tuesday attacked an elderly couple to death.
Rai said the elephant only killed people who accidentally approached or to photograph it. "He didn't enter houses or deliberately attack people. We wait to see if the flock welcomes him again," he added.
India has nearly 30,000 Asian elephants, nearly two-thirds of the total wild population.
Recent years have seen an increase in the number of elephants killed by men, but also men killed by elephants, as human activity invades forested areas.