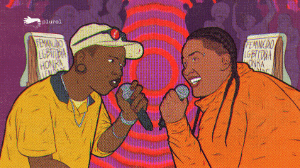 In addition to the competition, Marechal, who is the founder of the influential rap group from Rio de Janeiro Quinto Andar (1999 – 2005), is also the author of other cultural actions.
One of them is the Livrar Project, which consists of the free distribution of books in shows rapper and who joined the Battle of Knowledge. In addition to the battles, the public watched shows rap and had the opportunity to receive books for free. Sant says that Marshal's goal has always been for people to study.
"The crowd was always at the exhibition [do Museu] that was going on in the month, went up there before the battle happened, got some idea from the exhibition to write on the board, or took that view for home like that. That was the vision of the Marshal himself, the guys can study together ", says MC Sant, rapper.
In order to Flavya Martins, 25, professor and master's student in the field of sociology and anthropology, who researches rap battles, BDC refers to the concept that education should not be a unilateral process, addressed by Paulo Freire.
The teacher also emphasizes how the knowledge presented in the battles draws attention to the fact that there are other modes of expression and teaching: "We need to understand that the other's way of expressing himself is not our way of expressing himself".
The teacher explains that the battles end up being more attractive for some young people than the formal study environments because they offer better listening and are more welcoming. In addition, identification – mainly by black people and peripheral- causes literacy and the conception of identity to be found in them.
In order to Flavya, these spaces can be not only complements to formal classes, but inspiration:
"When I'm in the rap battle and I see people talking about topics that I could very well address in a class, as much as I have a teacher education, I'm learning a lot more with this person today. This learning of the expression of the other , how the other sees the world, for me, is extremely relevant for I can teach a class to someone who sees the world in a different way ".