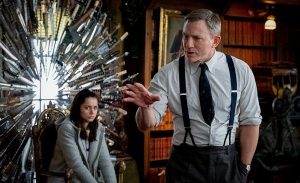 Daniel Craig offers a spectacular speech addressed to the cinema and to all fans who, like us, can't wait to sit firmly in a comfortable armchair in the dark of the cinema. We miss cinema too much, with long months of being forced to watch movies only from home. Christopher Nolan had already suggested how films could help us in this period of world crisis, but unfortunately in 2021 we have not yet been able to enjoy the experience of the seventh art. An adventure that will never cease to amaze us, in which to share joys and popcorn with your friends and relatives.
Daniel Craig is among the actors who have been waiting for more than a year to finally see their film in theaters. No Time to Die has undergone endless postponements, as well as Black Widow and many other blockbusters; also Diabolik and other Italian films they are ready to give us emotions. In the meantime, Daniel Craig didn't talk about his film, but praised cinema in general in a essay written by him for Empire Magazine:
"The Incredible Journey into the Unknown with my sister.
Cry all my tears with The Incredible Adventure.
Dancing in the hallway throwing popcorn into the air with Olivia Newton-John and John Travolta dazzle everyone on the screen.
Hiding under the chair in front of me when Roy Scheider was fighting that shark.
Not even trying to go to the cinema to see Alien or The Exorcist.
Strongly squeezing the armrest of the chair, struck by Blade Runner, the unbearable tension.
Rutger Hauer!
Cheer for Roger Moore as he danced over the alligators.
Blush in front of Betty Blue.
Being dizzy watching Avatar.
Terminator.
That damn huge boat that sank.
The Mummy is one of my favorites.
Toy Story.
Up.
For God's sake, Frozen.
Put those good guys in there too.
Throw in GoodFellas.
All that is by Alan Parker.
Gladiator.
Daniel Day-Lewis in My Left Foot.
Firm.
Mike Leigh/Haneke.
Every arthouse movie and every arthouse cinema.
The Avengers.
Black Panther.
Ryan Reynolds in a tight red onesie.
The Piano.
My God, Holly Hunter !!
And again, and again, and again.
It will never end, and it shouldn't.
All these memories and experiences have been shared with complete strangers; the lights go out, the projector flickers, silence descends or an enthusiastic cry goes up.
Sometimes the arts need little rituals in order to awaken the magic. If films are no longer shown in theaters, their value will decrease, and however large the budget may be, each film will become smaller and smaller.
Collective experiences shape our lives, and even if they are clearly biased, films unite us.
Whether it's a love story or a battle in space that I have about ten meters away, this travels straight through my heart ".
Daniel Craig will be James Bond for the last time
Fortunately, cinemas are gradually reopening in Italy too and we are expecting many films on the big screen. For some, exclusive viewing in the hall will finally be guaranteed. Among these we remember No Time to Die which will be released in October. Daniel Craig will play the role of James Bond for the fifth and final time. Recall that his adventure as 007 began with Casino Royale, and then continue with Quantum of Solace, Skyfall e Spectre.