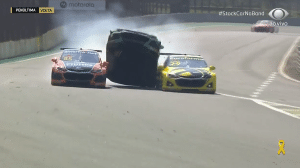 Casagrande ended up winning with only a 5,569 advantage over Allam Khodair (Blau), in second place. Bruno Baptista, from RCM, came in third.
Rubens Barrichello (Full Time) was involved early in an accident with Marcos Gomes (Cavaleiro Sports) and Cacá Bueno (Crown Racing), abandoned and did not even dispute the second race. Watch below:
The second race had the Portuguese António Félix da Costa (RC Eurofarma) stealing the show. Substitute for current champion Ricardo Maurício (tested positive for Covid), he started third and became the first foreigner to win an individual Stock race.
Daniel Serra, from the same team, came in second after a great recovery test, followed by Guilherme Salas (KTF Sports). Felipe Massa ((Lubrax Podium) finished seventh, his best result so far in the category.
Another striking fact of the second race at Interlagos was a serious accident involving Gaetano di Mauro. The KTF Racing driver tried to pass between Daniel Serra and Guilherme Salas, hit hard and took off at the start of the straight. Despite the shocking image, he happily suffered nothing, and the race ended with the safety car. Watch:
Stock was once again a live attraction at Show do Esporte, by Band, with a narration by Luc Monteiro, comments by Felipe Giaffone and a report by Celso Miranda. The next stage is June 19 at Velocitta, in Mogi Guaçu-SP.