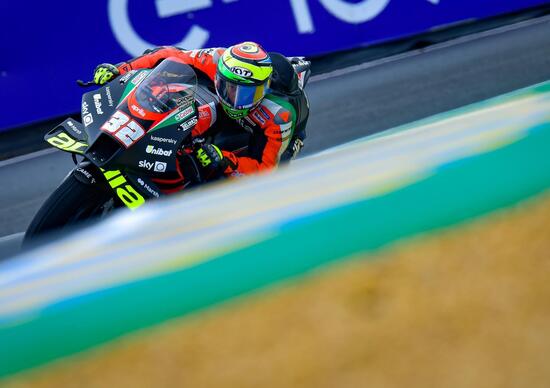 LE MANS – Ideas, questions e considerations after the French GP 2021.
What were the keys to the GP?
"Flag to flag". As expected, the bike change changed the race: the Yamahas of Quartararo and Vinales would have been difficult to beat;
The fall of Marquez. In the wet, Marc Marquez had proven to be super competitive and, once again, he and his team were the fastest in bike changes. The crash on lap eight while he was leading was decisive for the outcome of the GP;
Vinales' insecurity. When it started raining, Miller and Quartararo, behind him, continued to push, while Maverick didn't feel safe and slowed down;
The mistakes of the Suzuki riders. Both Mir and Rins had speed in both conditions, but both crashed;
Quartararo's unexpected speed in the wet. As far as we had seen in the test, it seemed that Quartararo was to be shipwrecked with the water, instead he remained afloat. And great.
What happened at the end of the first lap between Morbidelli, Rossi and Pol Espargaro?
Espargaro took a bad bump and found himself in the middle of the track rather slow. Rossi passed him, but the Honda rider resumed the line with great aggression, taking Morbidelli by surprise, who touched him.
Did Espargaro therefore commit an unfairness?
For me, absolutely not.
What happened to Morbidelli in the fall?
Unfortunately, Franco is in bad shape with his left knee (meniscus and ligaments) and falling you can see from the images that he puts pressure on the injured leg. Morbidelli explained that he felt very strong pain for a few seconds, then, fortunately, the worst was over. Morbido explained that he does not want to be operated on: in the next few days he will undergo a physiotherapy session.
What happened to the two Aprilia riders?
Both drivers were stopped by an unspecified technical problem. The first to stop was Lorenzo Savadori, on lap 11, while he was recovering in 12th position; Aleix Espargaro instead stopped on lap 16 while he was a good sixth.
Fast laps in the race (in brackets the lap in which it was made)
Quartararo 1'33 "048 (2); Vinales 1'33 "108 (2); Kidneys 1'33 "154 (3); Marquez 1'33 "427 (3); Nakagami 1'33 "506 (2); Miller 1'33 "609 (3); P.Espargaro 1'33 "643 (3); Zarco 1'33 "750 (3); Mir 1'33 "750 (2); Oliveira 1'33 "753 (2).
Consideration: the times were obtained, of course, in the few dry laps. They confirm that we had gone ahead with slicks, Ducati would hardly have won.
Was it right to penalize Miller and Bagnaia with 2 long lap penalties?
Yes. According to the regulations, if you enter the pit lane during the race at a speed higher than the set 60 km / h, do you have to be penalized with a long lap penalty?
Comparison between teammates (in brackets in qualifying).
Bagnaia / Miller 3/2 (1/4); Quartararo / Vinales 3/2 (4/1); Mir / Kidneys 3/1 (1/4); Marquez / P. Espargaro 2/1 (2/1); Binder / Oliveira 3/2 (3/2); Morbidelli / Rossi 3/2 (4/1); Zarco / Martin 2/0 (1/1).
Punched engines (in brackets the one used in the race). I remember that everyone has 7 engines for the whole season, except Aprilia which has 9.
Zarco: 3 (2); Petrucci: 2 (1); Vinales: 2 (1); Quartararo: 2 (1); Morbidelli: 3 (2); Mir: 3 (3); A.Espargaro 1 (1); Miller: 3 (2); P. Espargaro 2 (1); Rossi: 3 (2); Bagnaia 3 (3); Marquez 3 / (1).
Why was Lorenzo Dalla Porta disqualified after finishing 11th in Moto2?
The minimum weight of bike + rider in Moto2 must be 217 kg, but Dalla Porta and his Kalex have been verified at 216 kg. Hence the disqualification.
Three reasons to remember the GP.
Riccardo Rossi's podium in Moto3;
Miller's second consecutive hit;
Fabio Quartararo's first podium in the wet.
Three phrases from the GP
Miller: "In France I always get fined for speeding";
Zarco: "The bike and the team are ready, I hope to be too";
Migno: "I have a nervous that I would break everything".
I said so
Marc Marquez, Saturday: "The goal is to finish the race".
Jack Miller: "The best Ducati ever"
Johann Zarco: "We have everything to win"
Fabio Quartararo: "It counts as a victory"
Francesco Bagnaia: "I hoped for flag to flag"
Marc Marquez: "I made a mistake"
Valentino Rossi: "In mixed conditions we suffer"
Danilo Petrucci: "I also thought about the podium"
Follow the commentary of the races with Zam and Livio Suppo LIVE TODAY AT 8.45pm
Relive the highlights of the 2021 French GP on our LIVE
Review the Le Mans qualifying commentary with Zam and Manuel Poggiali
Review the comments from Le Mans free practice with Zam and Simone Battistella, manager of Andrea Dovizioso
var js, fjs = d.getElementsByTagName(s)[0]; if (d.getElementById(id)) return; js = d.createElement(s); js.id = id; js.src="https://connect.facebook.net/it_IT/sdk.js#xfbml=1&version=v3.0&appId=762114097210014&autoLogAppEvents=1"; fjs.parentNode.insertBefore(js, fjs); }(document, 'script', 'facebook-jssdk')); .