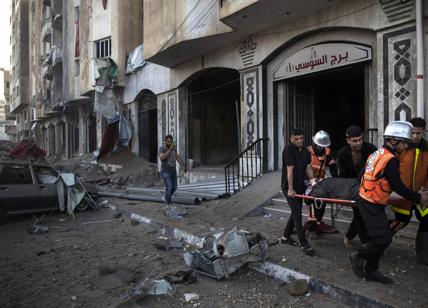 Rescuers evacuate an elderly wounded by Israeli rockets in Gaza
Two rockets followed by the attack by airplanes: Israel hit the Gaza building that hosts the international press and television. The army warned that the building would be bombed within an hour to allow for evacuation. The attack came half an hour later, when people got out of it. WATCH THE VIDEO
The father of Palestinian children killed: "Unarmed and dressed up"
"They (the children) were safe in their homes, they didn't carry weapons, they didn't fire rockets," said Mohammad Al Hadidi; "They died wearing Eid al-Fitr's clothes," he added, referring to the custom of wearing beautiful clothes for the Muslim holiday. Hamas leader Ismail Haniyeh called the al-Shati camp "an atrocious massacre" and promised revenge. Israeli warplanes hit several targets in Gaza overnight, while Palestinian militants fired around 200 rockets at southern Israel (around 30 of which failed to hit the ground inside Gaza). The rain of rockets continued throughout the morning and also killed an Israeli man, reached by shrapnel caused by the explosion of a rocket that fell in a suburb of Tel Aviv (the "revenge of Hamas", know the Islamic Resistance Movement). The Israeli army reported at least five attacks across the Gaza Strip overnight: among the targets, according to the army note, was one of the headquarters of Taoufik Abou Naim, the commander of the Hamas security forces. , as well as several "rocket launch sites" in the north and south of the enclave and "military intelligence".
Israel, Egypt opens its borders to evacuate the wounded from Gaza
Meanwhile, Egypt has opened the land border with Gaza to evacuate the wounded. There are ten ambulances engaged with transport across the Rafah pass. Cairo "opened the passage as an exception to allow the entry of ten Egyptian ambulances into the Gaza Strip to transport the injured Palestinians and treat them in Egypt". The Rafah terminal is the only gateway to the Gaza Strip not controlled by Israel which has imposed a blockade on the Palestinian enclave for over a decade.