The League touches a new low, at 21.9%. These in summary the data of the latest polls of today elaborated by Political Thermometer. The week from 26 April to 2 May 2021 compares the surveys of seven institutes: SWG, the same Political Thermometer, Tecnè, EMG, Piepoli, Ipsos, Index. (continue reading after the photo)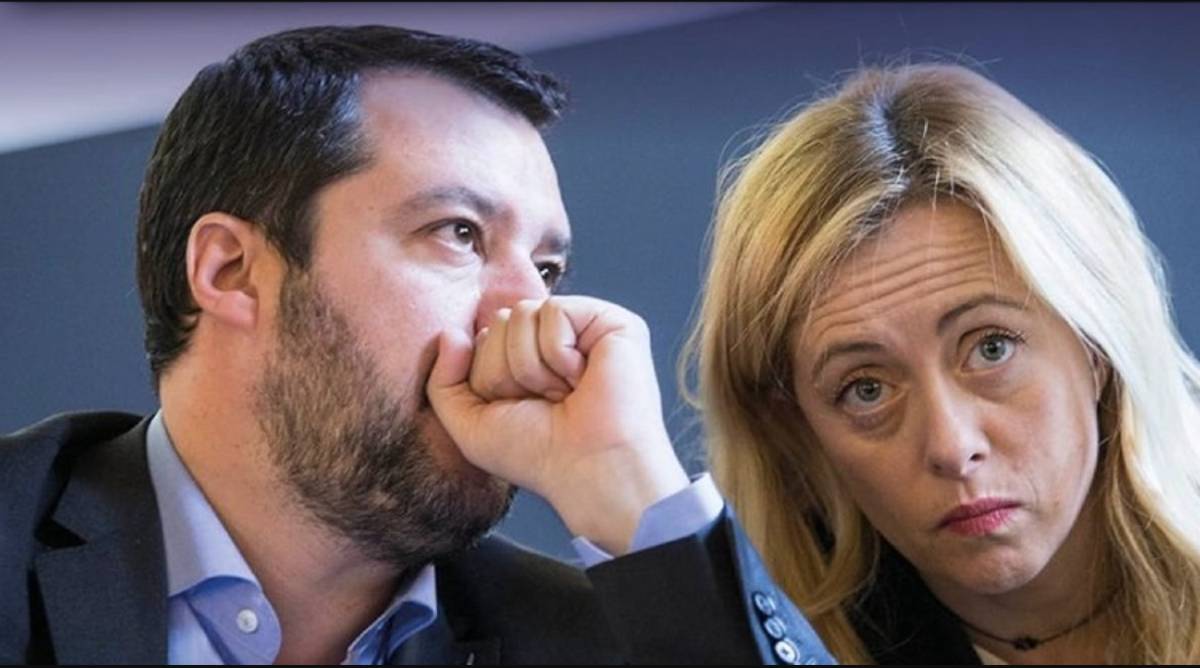 Media polls today, Political Thermometer: voting intentions
In the last week there are no big news on the side of voting intentions. However, the same trend that has been going on for a few months has continued and that you see the League decrease slowly but almost constantly, returning to the values ​​of 2018.
Salvini's party in the last 7 days fell to 21.9%, losing other decimals compared to the previous week. However, there was no parallel increase of Brothers of Italy, which is still 18.1%, while Come on Italy earns 0.1% to 7.2%. In the center left marginally improves the PD, which goes to 19.2%, but not the 5 Star Movement, which remains steady at 17.1%.
Good news instead for Italy Viva, which goes from 2.2% to 2.5%, thanks to EMG which, as always, is very generous with Renzi's party. The former parties of LeU, ranging from 3.3% to 3.4%. Stable instead Action al 3,2%.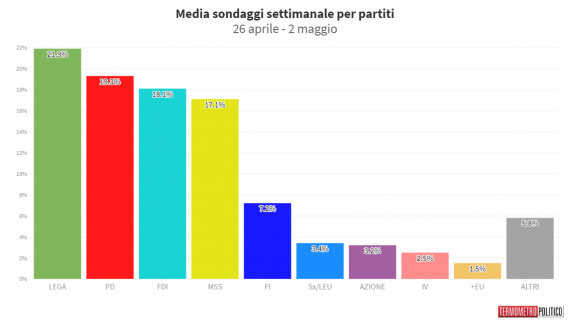 Polls and political scenario
From all the latest surveys it is clear how the Italian political scenario is in strong movement. And if for the moment what happens on the left of the grid is more evident, it is now certain that before the administrative something important will soon happen on the right as well. The decline of the League and the constant growth of the Brothers of Italy are a fact that has been consolidated for some months. The current center-right formula is worn out and discontent is felt both on the center side, read Forza Italia, and at the extreme, with Fdi pawing for a more important role, despite being divided by historical allies in supporting the Draghi government.
On the left, the transition of the Democratic Party seems to have started towards a defined path. Letta wants to anesthetize the internal currents of the DEM that have been tearing the party apart for years. But if the return to "democratic centralism" seems more a utopia than anything else, the possibility of an internal dialogue and not only on alliances in the field of the center-left appears decidedly more concrete. Then there is the new 5-star "revolution", with the duo Conte-Grillo who after breaking up with Casaleggio ready to sacrifice the name (and perhaps even some "big shot") to launch "Italy plus 2050", the futuristic creature that looks more like a container than a party. And that dusts off the term "comrades": a warning to Letta, "we compete on the same ground".