Anyone who threatens Russia's security will regret it as they have never regretted anything. Russian President Vladimir Putin said in Wednesday's speech before parliament on the state of the country. Due to recent tensions – Russian military build-up on the Ukrainian border, sanctions by and against the US, fuss over opposition politician Alexei Navalny – the speech was closely monitored.
Putin mainly talked about domestic issues, with a lot of attention to the corona crisis. He announced grants for citizens in need, specifically aimed at caring for children. The president is concerned about the climate, education and especially the low birth rate. "The preservation of the Russian people is our highest national priority."
For foreign policy, Putin only reserved the end of his speech. The word "Ukraine" was not mentioned. He did say other things that illustrate how bad the relationship with the West is.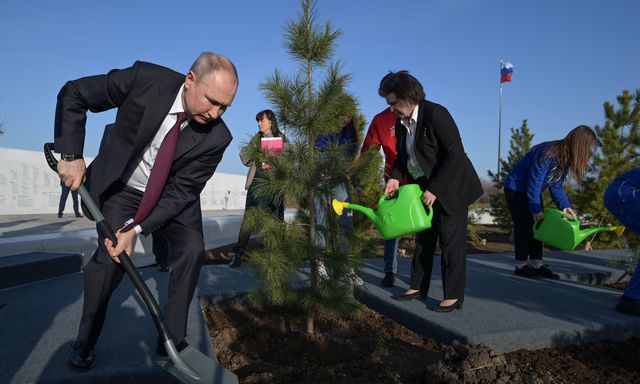 Also read this article about Putin's motives around Ukraine

1We really don't want to burn bridges. But if some mistake our good intentions for indifference or weakness and plan to burn, or even blow up, those bridges themselves, then Russia's response will be asymmetrical, swift, and harsh.
Especially the description of Russia's reaction to foreign 'provocations' draws attention and sounds threatening. Putin always follows this pattern: Russia does not intend any harm, but will retaliate if the country is threatened. Although in earlier speeches he went into more detail about the Russian arsenal of weapons, he again mentioned several missile types that will be available soon.
2 I hope no one is considering crossing so-called red lines against Russia. And we determine where those lines lie, for each situation separately.
Analysts point to the effectiveness of this threat, because it offers no guidance whatsoever. The Polish researcher Lukasz Adamski sums up the message to the European Union and NATO as follows: "We are not saying what our red line is. We are not saying how we will react if Russia's interests are harmed. So fear us. " Others also translate the statement as: sol not with us.
Also read: Mass protests in Russia and Navalny employees held

3 You can argue about Luka-shenko's policies, but preparing a coup and an assassination attempt on a head of state is going too far.
Where there was pre-speculation about an announced "merger" between Russia and Belarus, Putin's reference to Belarus was surprising. He complained that the West is silent about an alleged plot against the Belarusian president, which was revealed by Luka-shenko on Saturday and was thwarted by the Russian security service FSB. Putin paid a lot of attention to the issue in his speech. On Thursday, he will speak with Lukashenko about further cooperation between the two neighboring countries.
4 There are all little Tabaquis hanging around Shere Khan. They scream to please their ruler. Kipling was a great writer.
Putin's reference to The Jungle Book by the British writer Rudyard Kipling (1865-1936) should probably be interpreted as a sneer at European allies following the United States in its policy towards Russia. Putin called "unkind actions" against Russia a "new kind of sport." Tabaqui is the fawning jackal who helps the great tiger Shere Khan. In The Jungle Book, Shere Khan faces the good-natured bear Baloo, but it is unclear which character is linking Putin to Russia.