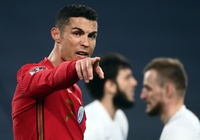 Expected to start on June 11, 2021, with a final disputed on July 11 of the same year, Euro 2021, which would be held last year but has been postponed to this year because of the new coronavirus pandemic, will only be broadcast on Grupo Globo on Brazilian television.
The column found that since last year there was already the certainty that the event would not be negotiated with any other communication company that it wished. Band even considered talking to Globo to try licensing again, but gave up because it wanted to invest in other fronts.
In the case of Globo, executives project a strong championship that will give a good audience return. Most games will be shown on SporTV, your sports channel on pay TV.
Games in decisive stages will be shown on open TV. The fact that the clashes are played in the afternoon most days helps a lot. The final, as happened in 2012 and 2016, will be shown with narration by Galvão Bueno if all goes well.
Due to contractual issues in the broadcasting rights, Globo has not yet defined its commercial strategy. You can offer a commercial package in the participation scheme with shares at commercial intervals. But if the broadcaster does so, it needs to give priority to companies that have partnered with UEFA for the event.
It will be the first time that the Euro will have an exclusive broadcast on Grupo Globo. In this 21st century, Record and SporTV showed the 2004 and 2008 editions. In 2012 and 2016, Globo, Band and SporTV showed the matches. Band, in fact, did very well in the audience when showing exclusive games in the group stage of the competition.
Euro 2021 will feature Italy v Turkey in their opening game. On Tuesday (6), the Government of Italy released an audience for the matches of the Italian team during the competition. UEFA's goal is for the 12 countries chosen to host Euro 2020 to be able to receive at least 25% of stadium capacity.