Emanuela Tittochia and Manuela Ferrera are about to land in Honduras. Here are all the details of their arrival on the Island of the Famous.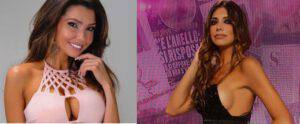 New castaways are about to arrive at the Island of the Famous. After returning home to Ferdinando Guglielmotti, Akash and Daniela Martani, the production decided to animate the game with two new strong-willed women. In fact, the landing in Honduras of Emanuela Tittocchia e Manuela Ferrera. Manuela, ex meteorina del tg4, she hit the headlines for her relationships with Gonzalo Higuain e Cristiano Ronaldo. The beautiful model has prepared her fans for the idea of ​​having to see her without her sexy looks, stilettos and most of all without make-up. Up Instagram the official confirmation of his participation has arrived but it is not yet known when the famous helicopter launch will take place. Emanuela Tittocchia instead he has not yet confirmed his landing but according to numerous rumors he should pair up with Manuela. The two showgirls, however, have something more in common than participation in theIsland of the Famous. As revealed by Riccardo Signoretti both were engaged to the same boy. The lucky man he is Biagio D'Anelli, former competitor of the Big Brother e fixed columnist in the programs of Barbara d'Urso. Will the hunger and hardship they have to endure on the island bring up past grudges?
READ ALSO> MEGHAN MARKLE, SISTER SAMANTHA: "IMMATURE AND NARCIST, WANTED TO EMULATE LADY D"
For two competitors who arrive, one could leave theHonduras due to a disqualification. We are talking about Awed who in the last few hours has used inappropriate phrases towards her partner Fariba Tehrani. The youtuber would have insulted Fariba for being too low-cut unleashing a storm on the web. The 24 year old had already been criticized after the verbal assaults a Francesca Lodo e Gilles Rocca, resolved with an unexpected and suspicious repentance when his shoulder Vera Gemma has been eliminated.
READ ALSO> BARBARA D'URSO GOES TO RAI ?: THE CLAMOROUS INDISCRIPTION
Now we just have to wait for the production decision on this new attack.