Herman Tjeenk Willink, the newly appointed informateur, started his Herculean task on Thursday to refloat the stranded formation. He must keep in mind two opposing goals: the confidentiality of the formation process and the openness demanded by the House. Tjeenk Willink is not going to give radical openness. He said on Wednesday: "I do not rule out saying to a group chairman: 'Are there any things I should discuss with you privately?' There are also things you don't have to write down. " No trust without confidentiality, argues Tjeenk Willink.
And formations cannot do without trust, Herman Wijffels also knows. In 2006 he was an informateur of the Balkenende IV cabinet (CDA, PvdA, ChristenUnie). Between Jan Peter Balkenende (CDA) and Wouter Bos (PvdA) there was "pain and discomfort". Balkenende had said to Bos in the campaign: "You turn and you are not fair."
Where an informateur usually starts with 'points of difference', Wijffels had the leaders of the intended coalition parties explain why they had entered politics and what they wanted to achieve for the country. For example, he wanted to find out what was "under the ambitions".
The conversation took place on an estate in the Frisian Beetsterzwaag, out of the eye of the media. The delicate process of finding each other must be done with as little outside interference as possible, says Wijffels. The formation of Balkenende IV went smoothly, after six weeks of negotiations an agreement was reached. But the mistrust turned out to be persistent; this cabinet was known as a 'fighting cabinet' and it fell in 2010.
Former D66 Member of Parliament Boris van der Ham also sees the importance of confidentiality. "If you want to compromise, you have to create a degree of security, provided that it is handled with integrity," he says.
"Tighten the kettle"
Is that still possible? On Tuesday, the House of Representatives passed a motion calling for the discussion reports of the information round to be made public. According to Carsten de Dreu, negotiation expert and professor of psychology and behavioral economics at the University of Amsterdam and Leiden, the call for more transparency is "at odds" with coalition negotiations. It is precisely in confidentiality that parties can brainstorm creatively, because they do not have to fear negative reactions from society. The House of Representatives has nothing to do but "withdraw this shit, he thinks. "You can be poisoned that negotiators will speak to each other outside the official negotiations." Sometimes things are said in the corridors that are crucial to getting tricky issues going.
"The formation process is of course quite different from having a government with a new administrative culture," says Janka Stoker, professor of leadership at the University of Groningen. Stoker believes that the informateur should make it clear that 'to form is not to rule'. You have to take that apart, she emphasizes. The House of Representatives will have to accept that a formation process "benefits from some shelter".
Can confidence in the confidentiality of the formation process be restored in any other way? "Parties themselves are part of this process," says Stoker. For example, the informer can draw up 'negotiating rules' and intervene where necessary. Boris van der Ham says that the informateur "must continue to monitor" the task he has been given by parliament. As soon as party chairmen start talking about staffing, Tjeenk Willink has to stop them, because the filling of cabinet positions is only discussed at the end of the formation. But parliament should also not lay down the task of the informateur too much. "It must be able to act according to its own judgment, it is an organic process."
Group chairmen need to come up with a "contemporary answer to the crucial question of how they want to deal with dualism and a more open style of governance," says Wijffels. Solemn promises about a new management style are not enough. In fact, all group chairmen and the official staff of ministers should get rid of their old reflexes by replacing them with more openness and less hierarchical thinking. The latter reflex refers to the relationship between the cabinet (the power) and the parliament (the counterpower).
In other words: the way of doing politics at the Binnenhof must change. How do you achieve that? "That is very difficult, people go into the wilderness, for example," says Wijffels. In nature, a person is "thrown all the way back to who he is." Therapy or leadership trajectories are other options, he says.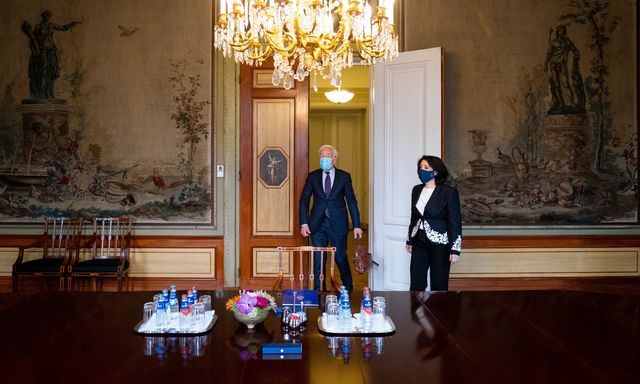 Also read this profile: Formation stuck? Call Herman Tjeenk Willink

A version of this article also appeared in NRC on the morning of April 9, 2021